Natural gas investors have an unlikely ally setting them up for profits.
[ad#Google Adsense 336×280-IA]The ally is our neighbor to the south – Mexico.
It's consuming more and more natural gas from the United States.
That's good for the beaten-up natural gas sector.
Here's why…
As regular readers know, the price of natural gas has tumbled over the past few months.
In February, natural gas prices hit a multiyear low of around $2.50 per thousand cubic feet (Mcf), as you can see in the chart below.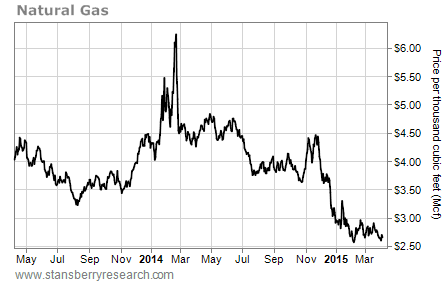 The reason for the decline is simple economics – natural gas production is outpacing consumption.
The U.S. Energy Information Administration (EIA) estimates that U.S. natural gas consumption will grow from 75.7 billion cubic feet per day (Bcf/d) in 2015 to 76.2 Bcf/d in 2016. That would be an increase of 4% over 2014.
But natural gas production reached 78.1 Bcf/d in January. With more supply than demand, prices have fallen.
However, that's about to change… thanks to rising demand for U.S. gas exports.
I'm not talking about liquefied natural gas (LNG) on tankers to Asia (though that will help, too). I'm talking about putting natural gas in pipes and sending it south to Mexico.
Javier Estrada, the former Director General of Mexico's Energy Planning and Information at the Ministry of Energy, told industry journal Oil and Gas Investor that Mexico wants U.S. gas.
As you can see from the chart below, natural gas exports to Mexico are ramping up: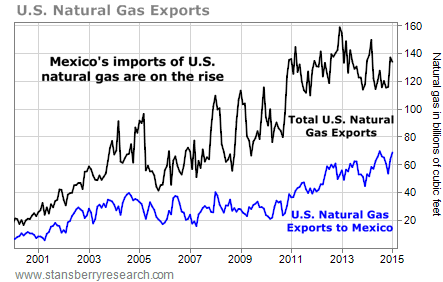 Since 2007, natural gas exports to Mexico have risen from 15.5 Bcf of natural gas per month to a recent high of 69.4 Bcf per month. That's an enormous 348% increase over the past eight years.
Right now, more than 80% of Mexico's natural gas imports come from the U.S. In January, more than 50% of U.S. natural gas exports went to Mexico. And these numbers are going to continue to increase…
You see, Mexico's domestic pipeline network is just 15% of the size of the pipeline networks in Texas alone. The country desperately needs new pipelines to get the natural gas it wants. That's why companies are bidding on new and larger pipes to ship natural gas across the border.
For example, in November 2014, a new pipeline opened in Los Ramones, Mexico. It brings Eagle Ford shale gas from Rio Grande City, Texas, across the border. The new pipeline has the capacity to move 2.1 Bcf of gas per day (roughly 60 Bcf of natural gas per month). To put this into perspective, the U.S. exported 68.5 Bcf of natural gas to Mexico in January. This is massive growth.
One of the major players in the new pipeline systems will be pipeline giant Kinder Morgan, which owns a 97-mile, 24-inch diameter gas line called the Kinder Morgan Border Pipeline. This pipeline can move up to 300 million cubic feet of natural gas per day into Mexico.
Kinder Morgan's other existing Mexico/U.S. pipeline is the Mier-Monterrey. This 95-mile pipeline can handle up to 375 million cubic feet of natural gas per day. It ties right into a major power plant in Monterrey, Mexico.
Those two massive pipes make up about 30% of the daily capacity of the new Los Ramones pipeline.
The new pipes into Mexico are like giant straws pulling natural gas south. And more are going in over the next few years. They will open doors to the new market for our natural gas. And we have a massive amount of natural gas stored in shale…
According to Sunil Sibal, director of Global Hunter Securities, the U.S. holds more than one quadrillion (one million billion) cubic feet of natural gas in shale. That massive supply already overwhelmed demand once, sending prices plummeting.
But increasing demand from Mexico will go a long way toward cutting the gap between U.S. natural gas production and consumption. In the near term, it will support natural gas prices. In the next two years or so, it should drive prices much higher than today… And that's great news for investors in the sector.
Good investing,
Matt Badiali
[ad#stansberry-ps]
Source: Growth Stock Wire