It's time to start thinking about buying platinum.
Since its peak in 2011, the metal has fallen around 40%. It recently hit a five-and-a-half-year low.
That has us interested.
You see, the best time to buy an asset is when it has been "blown out and left for dead."
[ad#Google Adsense 336×280-IA]I'm not saying we're there yet. But we're getting close. Let me explain…
As regular Growth Stock Wire readers know, commodities like platinum are tremendously cyclical.
That means their prices go through big cycles of boom and bust.
That's because the prices of commodities are based largely on supply and demand.
If demand is rising faster than supply, prices will rise.
But if supply is rising faster than demand, prices will fall.
That's what we've seen over the past few years with platinum.
Platinum is a precious metal that is incredibly useful in industrial applications. It's used in electronics, automobiles, dentistry, and jewelry. As a result, there's enormous demand for it.
To try to keep up with demand, the supply chain had to become more efficient. One way to do that has been recycling platinum. Today, recycling is a larger contributor to platinum supply than ever.
Johnson Matthey, a company that focuses on the use and recycling of precious metals, estimates recycling now makes up 31% of annual platinum supply. For comparison, recycling made up just 16% of platinum supply in 2005.
The growth in supply from recycling has helped push platinum prices down. The entire precious metals sector entering "bust" mode in 2011 also helped drive platinum prices lower.
Recently, the strength in the U.S. dollar (it's up around 24% against other currencies since July) has caused most commodities – including platinum – to fall. Platinum prices are down around 25% since July. As I said, prices are now at a five-and-a-half-year low.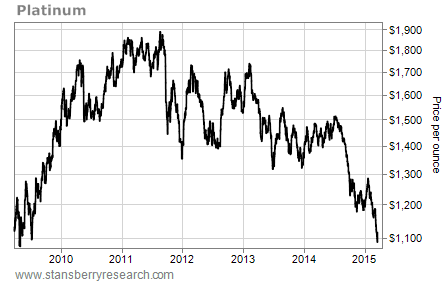 But the weakness in platinum prices is likely almost over.
You see, while recycled platinum supply has been increasing, platinum production has been dropping.
The primary culprit of falling production has been South Africa. In 2013, about 72% of the world's mined platinum came from South Africa. The country holds nearly 90% of the world's platinum reserves.
But last year, 70,000 employees went on strike for several months at three major South African platinum mines. The strike led to an 18% drop in world platinum production.
The low price of platinum has also been making production less economic worldwide. It's more difficult to mine platinum for a profit. So, many producers are cutting back production.
This has caused platinum supply to fall by 6% over the past four years – despite the increase in recycled platinum.
Meanwhile, platinum demand continues to increase.
As I said, platinum has industrial applications in electronics, automobiles, dentistry and jewelry.
For example, platinum is a main component in catalytic converters, which cut down on air pollution from vehicles.
Thanks to an increase in demand for catalytic converters from places like China, Johnson Matthey says platinum used in automobiles is up by more than 300,000 ounces over the past four years (and by 1.2 million ounces since 2009).
And platinum used in cars will continue to increase.
As I told you last year, to combat their growing pollution problems, countries like China are instituting vehicle-emission standards that require a catalytic converter in every new car and truck in the country.
And the number of new cars sold in China is increasing sharply.
Last year, automakers sold nearly 20 million passenger vehicles in China. Recently, they sold more than two million cars in China in a single month for the first time. More new cars in China means there'll be more demand for platinum.
Demand for platinum jewelry is also increasing. Since 2010, the amount of platinum used in jewelry has increased by 23%.
The increase in demand – coupled with last year's big production drop – has caused us to use 1.8 million more ounces of platinum than we produced and recycled over the past four years.
This deficit can't go on forever. Eventually, the supply/demand imbalance WILL force platinum prices much higher.
When that happens, investors holding platinum bullion or an exchange-traded fund that responds to the price movements of platinum, like the ETFS Physical Platinum Fund (PPLT), will profit.
The platinum price is still moving lower. So I don't recommend investing in the sector right now. But soon, prices should break out. Once the uptrend starts, it'll be time to buy.
Good investing,
Brian Weepie
[ad#stansberry-ps]
Source: Growth Stock Wire