In November, I told you agricultural commodities were likely headed higher.
The U.S. dollar was going parabolic. And the benchmark PowerShares Agricultural Fund (DBA) – which often trades opposite of the dollar – was near its low for the year.
[ad#Google Adsense 336×280-IA]But the dollar was showing signs of peaking, and DBA appeared to be in the process of bottoming.
I said if DBA could break above resistance at $26 per share, then agricultural commodities would end 2014 with a strong rally.
That didn't happen. The dollar kept moving higher and commodity prices kept falling.
DBA has fallen more than 10% since my essay.
But now, the rally in agricultural commodities looks like it's finally about to get started…
Take a look at this updated chart of DBA…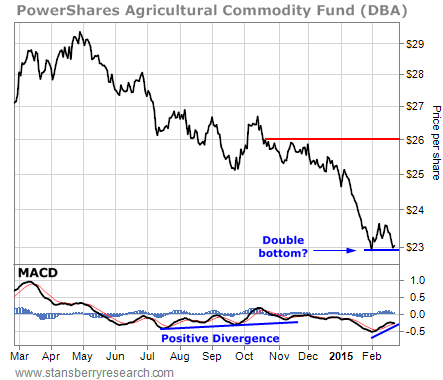 Despite the strong positive divergence (a series of higher lows which is often an early sign of an impending rally) on the Moving Average Convergence Divergence (MACD) momentum indicator, DBA just couldn't rally above $26 per share. Instead, it ended 2014 at its lowest price of the year. Then DBA nosedived in January.
But now, we have another setup for a rally.
This setup is different than the one we had in November. Back then, we had positive divergence on the MACD and were looking for DBA to break above resistance at $26 per share.
Today, we still have positive divergence on the MACD. But now, DBA is testing support at about $22.75. If DBA can hold above this level, the chart will have a double bottom in place.
Double bottoms are exhaustion patterns. They occur after steep declines when a stock has a weak bounce and then falls back and exhausts the rest of the sellers. A double bottom often marks at least a short-term end to the selling pressure, and sets the stage for a rally to begin.
Aggressive traders have a low-risk chance to buy DBA here at around $22.80 per share and keep a tight stop at about $22.70. So the risk is around $0.10 per share. If support doesn't hold, traders will get stopped out of the position for a relatively small loss.
If DBA can hold above the support line, there's a good chance any rally that develops from here will recover everything the stock has lost so far this year – which would push DBA back up to around $25 per share. So there's more than $2 per share of potential reward versus around $0.10 per share of risk. That's a good trade setup.
Best regards and good trading,
Jeff Clark
[ad#stansberry-ps]
Source: Growth Stock Wire