It's finally time to buy coal stocks.
Over the past four years, the coal sector has been in a bear market.
The Market Vectors Coal Fund (KOL) – which holds a basket of global coal stocks – has fallen from more than $47 per share in early 2011 to around $14 today.
[ad#Google Adsense 336×280-IA]That's a brutal 70% decline.
But as regular readers know, every natural resource bear market eventually ends.
And early gains from a new bull market can be large as beaten-down stocks bounce off deeply oversold conditions.
That's the situation setting up today in the coal sector…
We first started looking for a potential bottom in the coal sector in June.
At around $18 per share, KOL was trading above its former resistance line, and the stock and its moving averages were coiling together. This indicated KOL's momentum was changing to the upside. The sector looked poised to rally. But we recommended waiting to buy until the uptrend had kicked off.
The rally never came. The bear market continued. And coal stocks dipped to new lows.
In November, we checked in on the coal sector again. KOL was trading near $17 per share, and two more potential "buy" signals were setting up in the sector. We were just waiting for one of two things to happen:
For KOL to fall back down and make a slightly lower low around $15.50 per share. Because KOL's Moving Average Convergence Divergence (MACD) momentum indicator – a measure of overbought and oversold conditions – was extremely oversold, we said it wasn't likely to fall as low on any additional declines in the stock. This would create positive divergence (KOL making lower lows on the chart while the MACD makes higher lows) – which is often an early sign of an impending rally.
For KOL to pull back a bit, form a higher low, and then rally back above $17 per share. We would have the first set of higher highs and higher lows. And that's the definition of an uptrend.
In December, we got the first trigger. Take a look…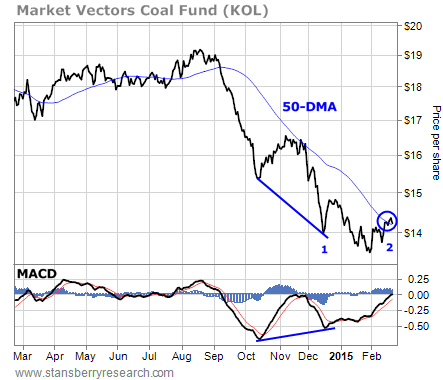 KOL dropped to a new low at $14 per share in December. But while KOL was hitting lower lows, its MACD made a higher low – creating strong, positive divergence. Bargain hunters could have stepped in and bought coal stocks there (point 1 on the chart).
After a brief bounce in late December, KOL dipped back down and dropped to an even lower low late last month. Notice, though, that the MACD indicator continued to display positive divergence. So, even though bargain hunters who bought in December were sitting on small losses, there was still strong evidence that the sector was forming a bottom.
Today, there's even more evidence that a bottom is in place.
Since hitting a bottom at about $13.50 per share last month, KOL has now formed a series of higher highs and higher lows. It has also rallied above the resistance of its 50-day moving average (point 2 on the chart). These are both strong signals that indicate the end of a bearish trend and the beginning of at least an intermediate-term rally phase. It could possibly even be the start of a new long-term bull market.
If you haven't already bought coal stocks, right now is the time. KOL is at roughly the same price it was at its December low. But it's more obvious that the chart has started a new uptrend.
If you bought coal stocks in December, hang on. There are likely big gains ahead.
Best regards and good trading,
Jeff Clark
[ad#stansberry-ps]
Source: Growth Stock Wire