Massive new oil supply has led Saudi Arabia to compete for market share by dramatically cutting prices.
The impact of this cheap oil in North America is mixed.
[ad#Google Adsense 336×280-IA]But certain regions are clear beneficiaries, such as those surrounding auto-reliant Detroit.
Just across the roughly 1.5 mile expanse of the Ambassador Bridge from Detroit is Windsor, Canada.
Its fortunes are tightly interwoven with those of the Motor City. One Canadian firm with operations in Windsor is sure to benefit from the glut of cheap oil.
That 1.5 miles might be just far enough to create an excellent profit play away from more dubious Detroit picks….
Car Sales in Early 2015 Are Surging
Car sales have surged, with normally slow January turning out to be a stellar month. Fiat Chrysler reported a 14% year-over-year monthly increase, and GM, Ford, Toyota, Honda, and Nissan all posted double-digit hikes.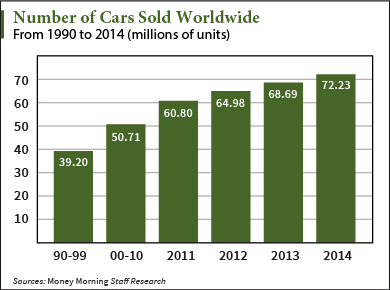 That said, auto sales have been robust for roughly four years, so inexpensive oil is a tailwind behind an already strong industry.
Scotiabank's Global Auto Report forecasts auto sales to increase a further 4% overall in 2015, with those in China surging even higher at 7%.
Despite the municipal and industry despair caused by the 2008 financial crisis, Detroit is certainly still the North American hub for auto manufacturers and suppliers.
Motor City is clearly bouncing back (it emerged, with caveats, from bankruptcy in December 2014). And due to the strong dollar, so are some of its (Canadian) neighbors.
The Auto Stock That Will Drive Your Profits
Thanks to the Auto Pact of 1965, followed by the North American Free Trade Agreement, the Detroit-Windsor corridor has become the most important international land crossing in North America, responsible for 30% of U.S.-Canada trade or some $20 billion in goods.
The aforementioned weaker oil prices, and a fresh surprise interest rate cut, have caused the Canadian dollar to decline from parity with the U.S. dollar two years ago to just $0.80 today.
The confluence of soaring car sales along with cheaper manufacturing north of the border makes Canadian auto parts producers a sector especially worth tapping for profits.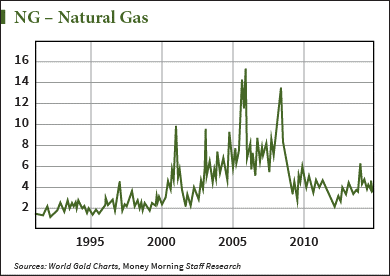 Consider that numerous car parts are plastics and polymers based.
Today, 8.4% of the total weight of the average light vehicle consists of plastics and polymer composites, with more than 1,000 plastic parts.
In North America, plastics are not made from crude oil. Instead, they're manufactured from commodities whose prices tend to track oil, like natural gas liquids (NGL), and natural gas.
So it's fair to say that low natural gas prices have boosted North America's manufacturing heartland. And nowhere is that more manifest than in the auto parts industry, which both benefits from reduced material costs and increased demand.
That's a niche sector from which Canada, in particular, is well placed to benefit.
Suddenly, Canadian products are a lot more attractive to Americans and American manufacturers. Despite an auto sales boom in China and South America, the U.S. remains Canada's most significant parts market. And one company has emerged as its dominant player…
Publicly listed since 1961, Magna International Inc. is the most diversified automotive supplier in the world. With a truly horizontal corporate structure, the company operates under a unique entrepreneurial culture known as "Fair Enterprise."
Magna's Corporate Constitution lays out the rights of employees, investors, and management to share in profits while imposing certain disciplines on executives. Going a step further, the company has an Employee's Charter with operating principles that encompass job security, safe work conditions, fair treatment, and competitive pay and benefits.
Founded by Frank Stronach, an Austrian immigrant to Canada, Magna has become a notable force in the auto parts industry on a global scale.
Its 130,000 employees across North America, Europe, Asia, and elsewhere develop, manufacture, supply, and sell automotive products. These include body, chassis, renewable energy systems, powertrain systems, metal forming solutions, exterior trim, structural components, complete seating systems, hardware, interior systems, fuel, battery, vision systems, door modules, window systems, and driver controls.
The company's involvement in virtually all facets of auto parts design, manufacturing, and assembly has led some to surmise that Magna has the capability of building an entire car… if it wished to.
The Numbers Supporting MGA Stock Strength
Magna International Inc. trades on the Toronto Stock Exchange (TSX: MG), and on the New York Stock Exchange as Magna International Inc. (USA) (NYSE: MGA).
With a market cap approaching $21 billion, a P/E of 12, and a current dividend yield of 1.6%, this is one stock that deserves your attention.
Magna remains at the forefront of technological innovation. In September, Magna announced that it had reached a production milestone at its electronics facility in Holly, Michigan. The company had produced its 10 millionth automotive rearview camera. Holly is the only such camera maker in the United States, and it leads the market segment in North America.
Together with Ford Motor Co. (NYSE: F), Magna recently presented test results on the multi-material lightweight vehicle (MMLV) concept, based on the 2013 Ford Fusion.
Those results predict that the cradle-to-grave total net savings of the MMLV, when compared to the 2013 Fusion, provide a 16% improvement in "global warming potential" and 16% improvement in total primary energy (fuel usage plus energy used to produce and recycle materials). Advancements were achieved through a new aluminum intensive car structure, the use of carbon fiber, magnesium and titanium, as well as a downsized, high-output engine.
This car parts developer/manufacturer is in great financial shape too.
With a 19.5% return on equity, quarterly earnings growing at 47% year on year, low debt, and healthy cash, Magna is poised for serious growth as worldwide car sales boost earnings.
So while we wait for oil prices, oil producers, and the oil services sectors to carve out a bottom, Magna is a leading company in a growing sector primed to benefit from a strong dollar and inexpensive oil. A perfect storm for a surge in profits.
— Peter Krauth
[ad#IPM-article]
Source: Money Morning