Right now, an unusual indicator says it's a great time to buy bank stocks.
If you're interested in earning dividends in 2015, it's worth hearing what this indicator has to say. It can help you safely earn a substantial amount of income with one of the market's cheapest sectors.
Let me explain…
Since the 2008 financial crisis, investors have avoided bank stocks. I'm sure you know the reasons why. People say banks are too complicated… they're taking on too much risk… they're vulnerable to financial crisis.
[ad#Google Adsense 336×280-IA]Regular readers of my
Income Intelligence
advisory know that I think things are getting better for the U.S. economy… and that fears of a financial crisis are overblown.
In fact, financial sector stocks are ripe with value.
Just take a look at bank profits.
We can look at what a bank pays for capital and what it earns on it.
It's called the "net interest margin."
If a bank borrows at 2% (via deposits or in the money markets) and charges borrowers 5%, its net interest margin is 3% (5% minus 2%).
This is the indicator I mentioned above…
Right now, the net interest margin for banks is extraordinarily low at 3.3%. It's reasonable to think that's near a bottom. And when interest rates rise, it boosts the net interest margins for banks.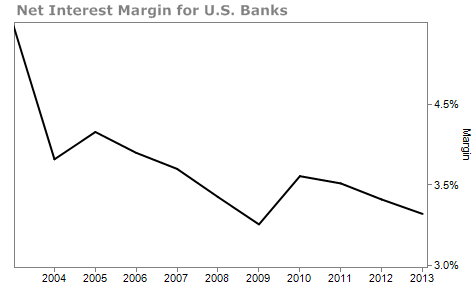 Remember, we'd rather buy bank stocks when margins are at a low, and then watch them rise.
And if you look at the valuations on financial stocks – via the price-to-earnings ratio – they've trailed the overall market since the financial crisis. Put simply, financial stocks are cheaper than the rest of the market.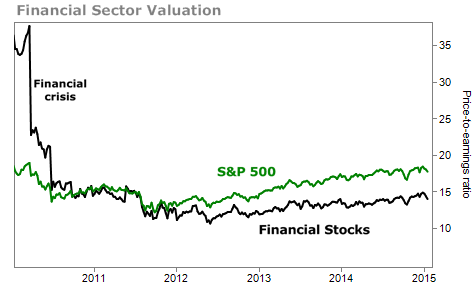 The finance industry is still changing from the financial crisis of 2008 and 2009. Banks are trying to get stronger and safer while still remaining profitable.
But the global economy is built on financing… Whether it's an expanding factory in Vietnam, a major equity offering in Europe, or a small business loan in California, banks can claim to be a vital piece of making all of that happen.
And as the global economy grows… as commerce increases and more money passes back and forth between people, businesses, and nations… these companies will earn higher and higher profits.
If you're looking for safe dividend income over the next few years, take a look at bank stocks today.
Here's to our health, wealth, and a great retirement,
Dr. David Eifrig Jr.
[ad#stansberry-ps]
Source: Daily Wealth