Earlier this month, I told you about the rare extreme setting up in the silver sector.
The silver-to-gold ratio – which is simply how much silver you can buy for the price of an ounce of gold – was near a historic high.
For this ratio to return to normal, I said silver prices would likely rise. And that's exactly what's happening. The price of silver is up 13% since my essay.
[ad#Google Adsense 336×280-IA]But there's plenty more upside ahead…
As regular Growth Stock Wire readers know, silver and gold prices usually move in tandem.
When gold prices go down, silver prices tend to go down, too.
But occasionally, silver prices move much further than gold prices, and the silver-to-gold ratio hits an extreme.
Over the past 20 years, the average silver-to-gold ratio has been 61.
So you could typically buy an average of 61 ounces of silver for the price of an ounce of gold. But in early January, it took 75 ounces of silver to buy an ounce of gold.
The past three times the ratio was near that level, silver prices soared to return the ratio back to normal.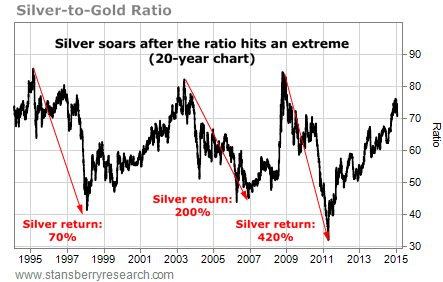 With silver's recent increase, the silver-to-gold ratio is at 71 today. So either gold prices need to decline from here or silver needs to continue heading higher.
And with demand for the metal increasing, it's likely we'll see higher silver prices.
A recent forecast issued by the Silver Institute and mining and metals firm CRU Consulting predicts a 27% increase in silver demand by 2018. The report says electronic applications will drive nearly half that growth alone.
You see, silver is incredibly useful. It's used in products like mobile phones, tablets, and computers.
It's also being used in wearable technology (clothing wired with sensors that can monitor things like your heartbeat and stress level).
Iconic clothing designer Ralph Lauren created bio-sensing clothes for the 2014 U.S. Open tennis tournament. The material included silver fibers used to collect players' biometric data. This allows athletes to record their performance without wearing annoying patches and bulky wires during the workout. This will probably become the norm for elite athletes.
Silver is also increasingly being used in the solar energy industry. The solar industry consumed 88 million ounces of silver in 2013. Its consumption is expected to grow to 109 million ounces by 2018.
Investor demand for silver has also been strong recently due to low prices. For example, the U.S. Mint sold the most one-ounce Silver Eagle bullion coins ever in 2014 (44 million). This demand has continued into 2015… As of Monday, the U.S. Mint reports it has sold more than 5 million Silver Eagles so far this month. If sales continue at this pace, this year will shatter last year's record.
Increased demand should help silver prices soar over the next few years. If you don't already own silver, I recommend buying some today.
Good investing,
Matt Badiali
[ad#stansberry-ps]
Source: Growth Stock Wire