Two weeks ago, I told you stocks were gearing up for a year-end rally.
At the time, the S&P 500 had fallen 3.5% in one week.
The market was underwater for December.
And many traders were wondering if the "Santa Claus" rally (an end-of-year boost in prices) would show up this year.
I said it would… and it did.
[ad#Google Adsense 336×280-IA]On Friday, the S&P 500 closed at a new all-time high.
It closed Friday up 5.8% from where it was trading two weeks ago.
If you bought stocks based on my advice, you might be tempted to hold on for even more gains.
After all, the stock market often starts off the New Year with a rally.
But it's time to take profits. Let me explain…
The same indicators that suggested a rally was coming two weeks ago are now hinting the rally is nearing an end.
Take a look at this chart of Wall Street's fear gauge, the Volatility Index (the "VIX") plotted with its Bollinger Bands…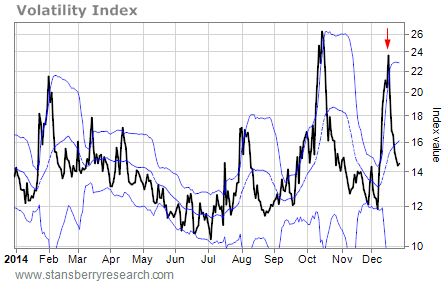 Bollinger Bands measure the most likely trading range for a stock or an index. Any time an index moves outside of its Bollinger Bands, it indicates an extreme move – one that is likely to reverse.
Two weeks ago, the VIX popped above its upper Bollinger Band. That was a sign of extreme fear in the market… and it usually happens at the end of a decline phase.
Today, the VIX has come all the way back down toward the lower end of its year-long trading range. There's not much fear in the market right now. That's usually something that happens near the end of a rally.
Now take a look at this chart of the NYSE McClellan Oscillator (the "NYMO") – a measure of overbought and oversold conditions…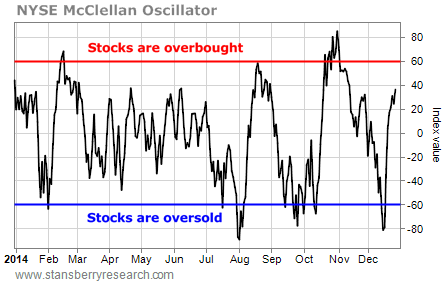 A reading above 60 on the NYMO points to overbought conditions and often marks the end of a rally in the market. A reading below -60 points to oversold conditions and often marks the end of a downtrend in the market.
As you can see on the chart, the NYMO dropped into extremely oversold territory two weeks ago. The NYMO hasn't reached "extremely overbought" levels yet. But it is much closer to overbought than it is to oversold. That also suggests this current rally phase is nearing an end.
The stock market has done exactly what we wanted it to do over the past two weeks. We were looking for a rally of 5% or so going into the end of the year. That's what we got.
There might still be a little more upside ahead. But the NYMO and the VIX are hinting that we've already seen most of the gains this rally is going to show us. Holding out for more gains at this point means we risk giving some back in a stock market reversal.
So traders ought to be taking profits now.
Best regards and good trading,
Jeff Clark
[ad#stansberry-ps]
Source: Growth Stock Wire