I have been increasing my exposure to the biotech sector recently as sentiment seems to be improving on this space. I particularly like the small cap biotech area at the current moment. Even with the recent improving performance most of the stocks in this sector are significantly below their highs from earlier in the year.
I also like the fact that this area of the market has absolutely nothing to do with the price of oil which has been a rollercoaster for investors lately. Below are two cash rich small cap biotech gems offering attractive risk/reward profiles right now.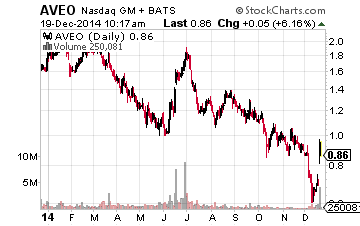 Let's start with a small biotech firm called AVEO Pharmaceuticals (Nasdaq: AVEO). I've been accumulating a fairly large stake in this speculative play over the past two months. The stock has been an awful performer in the market over the past few years but now appears deeply oversold at less than $1 a share. In 2011, the shares went for north of $20 apiece. The stock basically trades for just over the net cash on its balance sheet.
There is good reason this biotech stock has become a black hole for its shareholders over the past few years. Trials for its lead product, tyrosine kinase inhibitor Tivozanib, have just not produced the results investors had been counting on. However, in November the company licensed this platform to Ophthotech (Nasdaq: OPHT) for the investigation into the potential treatment of non-oncologic diseases of the eye for a small upfront payment and with Ophthotech bearing the full development cost. If development is successful, AVEO Pharmaceuticals could eventually reap more in milestone payments than the current market capitalization of the stock.
The company has some other compounds in early development and a proprietary development process called the Human Response Platform™ that the company believes can help develop new cancer compounds more efficiently, which might be worth the price of the stock by itself. This is one of the most speculative plays in my portfolio right now, but I like the risk/reward outlook at this price.
Evidently noted biotech fund guru Seth Klarman does as well. Mr. Klarman recently disclosed a significant stake in this micro-cap stock with a market capitalization of around $50 million. That news sent the stock up approximately 20% last Thursday and may be the start of a more significant rally.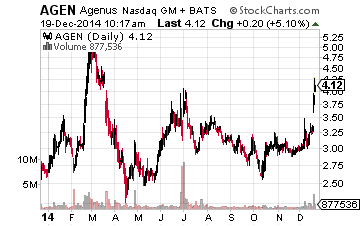 Let's move on to Agenus Inc. (Nasdaq: AGEN) a slightly larger biotech concern with a market capitalization of just over $250 million. Agenus acts as an "arms merchant" via partnerships with several major pharma concerns and supplies compounds that make their drugs work more efficiently. The stock was added to the Small Cap Gems in the November edition of the monthly newsletter.
That turned out to be fortunate timing as the stock has jumped about a third since its inclusion but still is undervalued. One of the key drivers of its recent rally is the response to the successful outcome of the Phase III clinical trial of GlaxoSmithKline's (NYSE:GSK) shingles vaccine candidate. This vaccine contains QS-21 Stimulon which is an adjuvant from Agenus that enhances the body's immune system and helps make vaccines more effective.
This adjuvant used as part of a malaria vaccine was recently submitted for approval to the European agency that controls approval for use in Africa also by GlaxoSmithKline. Approval is expected sometime in the middle of 2015. Agenus received a couple million dollar milestone payment after the successful conclusion of the trial, the company will receive a similar milestone payment upon approval and royalties for 10 years on sales. This will represent the company's first significant recurring revenue stream and should be another catalyst to stock price appreciation once approved in the coming year. More importantly the vaccine could help reduce the 600,000 deaths that occur annually in Africa.
[ad#Google Adsense 336×280-IA]Agenus has a platform that produces a variety of cancer checkpoint inhibitors for use in conjunction in partnerships again with GlaxoSmithKline, Merck (NYSE: MRK) and Johnson & Johnson (NYSE: JNJ).
Combining checkpoint inhibitors with other immune therapies for cancer is being used to develop vaccines that hopefully end up stimulating the immune system to attack the cancer, plus a checkpoint inhibitor that prevents the cancer from protecting itself against the vaccine.
These drugs are years away but Merck did sign an agreement with Agenus in April that could eventually lead to $100 million in total milestone payments plus a percentage of sales in royalties.
Agenus has one other platform that has produced a couple of compounds that have gotten through Phase II trials and represent additional "shots on goal". One of the best things about Agenus is its financial model. Partners put up the cash for trials and studies allowing Agenus to lower financial risk and conduct development along a deeper pipeline than otherwise would be possible. The company has a solid balance sheet with over $40 million in net cash.
Small biotech investing is always risky, which can mitigated by taking smaller positions in a greater number of promising stocks. Both of the selections highlighted above are attractive picks for that sort of type of investing. Both are speculative but could produce major gains if drugs in development move successfully through the approval process.
– Bret Jensen
Positions: Long AVEO, AGEN
[ad#ia-bret]
Source: Investors Alley