Oil has been crushed.
On Friday, the price of West Texas Intermediate (WTI) crude oil fell 10%. That's the biggest one-day decline in five years.
Since June, WTI oil has fallen from more than $110 per barrel to around $65. That's a 41% drop in about five months. In short, oil is now trading at its lowest price since 2009.
That has a lot of traders looking to buy. But before you jump in, there's one important point to remember…
Before an asset can start to move higher, it has to stop falling.
It seems obvious. But traders often forget this simple rule. We get caught up in trying to buy at the bottom… and we jump into a trade without seeing any price action that suggests the decline is over.
[ad#Google Adsense 336×280-IA]Every once in a while we get lucky, buy at the bottom, and capture 100% of the subsequent bounce.
Most of the time, though, we jump in too early and suffer a loss.
Here's how to prevent that from happening…
If an asset is in a steep decline, wait for it to recover 50% of its previous daily decline before buying it.
A 50% reversal is enough to shift the short-term momentum from bearish to bullish and to kick off at least a short-term rally phase.
Now, let's apply this to oil today.
Take a look at this chart of the United States Oil Fund (USO) – an exchange-traded fund that tracks the price of oil…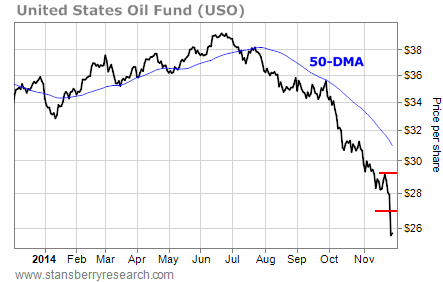 You can see the big hit USO took last week. The fund is now trading about 18% below its 50-day moving average (DMA).
But before you buy USO at this depressed level, let's apply our rule of waiting for an asset to recover 50% of its previous daily decline before making a trade.
Using Friday's fall from $27.90 (Wednesday's closing price) to $25.58 (Friday's closing price), that means we're looking for USO to move back above $26.74 per share – the first red line on the chart. That should lead to a move up to the next red resistance line at about $29.
If USO continues lower, continue to move the buy trigger lower as well. For example, if USO falls another $1 per share and closes at $24.58, look to buy on a move back above $25.08. That would be a 50% recovery.
By using this trading discipline, you'll never buy a stock at the absolute bottom. But you'll be able to buy a stock close to the bottom and at a point where the momentum has shifted to bullish. This will lead to more profitable trades.
Right now, oil is so deeply oversold that even a modest bounce could generate big gains. But oversold conditions can get even more oversold. Wait until the price stops falling and USO can recover at least 50% of its previous day's losses.
That will be the time to buy oil for a short-term trade.
Best regards and good trading,
Jeff Clark
[ad#stansberry-ps]
Source: Growth Stock Wire