Russia is the world's cheapest stock market – by far.
It's significantly cheaper than Lebanon's stock market. And dramatically cheaper than Venezuela's. It is CHEAP!
It is a "contrarian's dream" as well, as Kim Iskyan – the best Russia analyst I know – says.
I am a sucker for a cheap, contrarian play. But I am not buying Russia…
Exactly one month ago, I explained the main reason to my True Wealth Systems subscribers.
[ad#Google Adsense 336×280-IA]It was the right call…
U.S. stocks have soared more than 7% in the past month…
And Russian stocks (as measured by RSX, the main Russia exchange-traded fund, or ETF) are down over 2%.
Russian stocks have lost half their value over the last three-and-a-half years.
You'd think they'd find a bottom here somewhere.
But here's why I'm not buying… Here's what I explained to my True Wealth Systems subscribers:
When the foreigners are buying heavily, the foreigners are usually wrong.
And that's what's happening today…
You see, despite Russian stocks trading near five-year lows, U.S. investors are piling in…
For proof, take a look at the chart below. It shows the main Russian-stock ETF (RSX) versus its shares outstanding.
Remember, exchange-traded funds like RSX create and liquidate shares based on demand. The total shares outstanding fluctuate depending on whether more investors are buying or selling.
And while RSX's stock price is bumping along lows, RSX's shares outstanding are near all-time highs: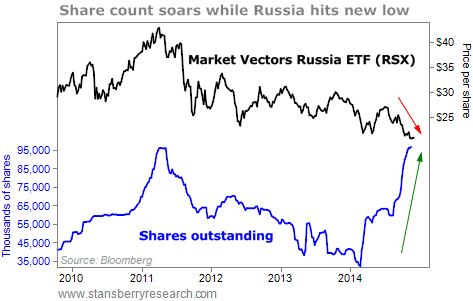 This tells us that U.S. investors want to own Russia right now…
You can interpret this in a couple of ways…
Some might think that all of this U.S. buying interest in Russia will have to turn into higher share prices in Russian stocks soon.
But we don't think that's right…
In our decades of experience, we've learned that foreigners are usually wrong.
When U.S. investors are excited about China and they're loading up on Hong Kong stocks, for example, it usually means the Hong Kong market is near a top.
It works the other way as well – when Japanese investors are piling into U.S. stocks, it usually means that the U.S. stock market is near a peak.
Normally, you want to avoid a market where the locals are apathetic but the foreigners are piling in.
It looks like that's what's happening in Russia right now.
U.S. investors are making large purchases in Russia. They think they're buying an incredible value that is ready to soar. But Russian stocks continue to fall to new lows.
To me, this is a bad sign.
I could be wrong, of course. Russia could start soaring right now. But I've learned that, typically, bull markets usually don't start without locals buying.
I was surprised to learn that Kim Iskyan – who spent nine years in Russia as a stock analyst before starting the Global Contrarian letter – agrees with me.
He recently wrote that:
At the surface, Russia's stock market is a contrarian's dream. Between the conflict in Ukraine, sanctions on the country, a struggling economy and plummeting currency, and bad boy President Vladimir Putin, headlines about the country are relentlessly negative.
"So is Russia a screaming buy?" Kim asks in his newsletter. He answers…
"Russian stocks are cheap… but they'll stay that way for a long time."
The foreigners are buying… But the locals and the experts (like Kim) are not.
Russia is the cheapest market in the world… And I'm not buying.
Buy Russia at your own risk…
Good investing,
Steve
[ad#stansberry-ps]
Source: Daily Wealth