When Wealthy Retirement reader Jack asked me to take a look at Intersections Inc. (Nasdaq: INTX), a microcap identity fraud security company, I nearly fell out of my chair when the yield was stated at 21%.
Historically, the company paid a quarterly dividend of $0.20 per share. With the stock trading below $4, that $0.80 per year is impressive.
But it's a mirage.
[ad#Google Adsense 336×280-IA]I've warned readers for a long time that when you see double-digit yields in this low-rate environment, your guard should be up.
It doesn't mean that every double-digit yielding stock is a fraud or will cut the dividend, but the risk is certainly higher.
When blue chips like Coca-Cola (NYSE: KO) are paying less than 3%, you have to ask yourself why another company's yield is 15%, 18% or, in this case, 21%.
Many times it's unsustainable.
And that's the case with Intersections.
Kiss of Death
Everything seemed to be going smoothly.
Last year, the company generated over $18.2 million in free cash flow. It paid out $14.4 million for a payout ratio of 79%. That's a little above my comfort zone. I like payout ratios to be 75% or lower.
The payout ratio is the percentage of a company's earnings or cash flow that is paid out in dividends.
The prior two years, the payout ratios were closer to 50%.
But in the first quarter of this year, the company paid out more in dividends than it generated in free cash flow.
Intersections paid $3.7 million in dividends while free cash flow was only $3.3 million.
And then, the kiss of death.
In the company's second quarter earnings release, among the "Financial Highlights" listed (emphasis added):
"We amended our Credit Agreement during the quarter to provide for a $7.5 million revolving credit facility with a maturity date of March 31, 2015. The amendment also modified our financial covenants and restricts our ability to pay ordinary dividends and make share repurchases."
In plain English, the company borrowed money and the terms of the loan prohibit Intersections from paying a dividend.
No press releases were issued stating that the company was eliminating the dividend, just an SEC filing on July 1. The second quarter earnings release came out on August 11. If investors weren't on the lookout for SEC filings, they would have been caught totally off guard by the news.
That's apparently what happened, because the day the SEC filing was made (and for a few days after), the stock didn't move much. But on the day of the earnings release, it plunged 13%.
Look, sometimes management teams have to make hard and unpopular decisions in order to move the business forward. But at least be up front about it and issue a press release. With such a strong dividend, the yield was clearly an important reason many investors were in the stock.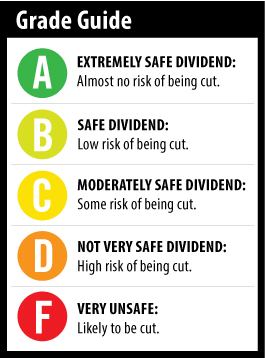 Obviously, with the dividend being eliminated, the stock gets an "F."
If there were something below "F," it would get that instead.
As for when the dividend will be reinstated, the company has simply said, "we will not be paying dividends in the near term."
Because Intersections has paid that $0.20 quarterly dividend this year, Yahoo Finance and other financial websites still show the yield at 21%.
But just a little digging shows you that figure is off by 21%.
Dividend Safety Rating: F
— Marc Lichtenfeld
[ad#sa-income]
Source: Wealthy Retirement