Stocks could absolutely soar from October 1 through the end of April…
The gain in stocks could be 26% – that's the average gain based on history, as I will explain.
Why? October 1 marks the start of the best 12 months of Jeremy Grantham's "Election-Cycle Indicator."
The U.S. is, of course, on a four-year election cycle. Stock market legend Jeremy Grantham (www.GMO.com) figured out that nearly all of the stock market's gains come in the third year of the four-year "election cycle."
The historical results are amazing – unbelievable, really…
We had to crunch the numbers ourselves. It turned out, Grantham's numbers are good. Going back 80 years:
• Stocks have averaged a 26.2% return (not including dividends) in the third year of the election cycle.

• Years 1 and 2 are historically losers, and Year 4 barely makes up for the losses of Years 1 and 2.

• If you include dividends, stocks have never had a losing third year of an election cycle.
You can see it in this table:
The Year 3 returns are often quite high…
When you include dividends, the typical return has been higher than 24%. It is unbelievable: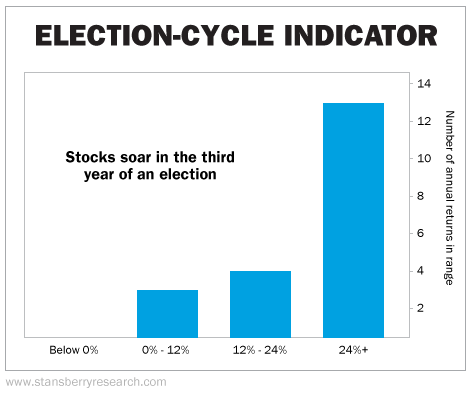 Grantham discovered something else quite amazing in his work…
He found that nearly all of the gains from the election cycle come in the first seven months… From October 1 through the end of April.
So what causes this election "effect" in the stock market?
Grantham explained it in a research note on his website: "in years three and four, and especially three… the Fed will do whatever [it] can to bail you out in a crisis."
Grantham summarized his thoughts…
After October 1, the market is likely to be strong, especially through April [and] in the following 18 months up to the next election… [then] the market bubble will burst, as bubbles always do, and will revert to its trend value, around half of its peak or worse, depending on what new ammunition the Fed can dig up.
I can't know the future… and neither can Grantham.
We both share similar scripts, though…
[ad#Google Adsense 336×280-IA]The 8th inning of this great bull market just started – on October 1.
It will run until roughly the end of April, following Grantham's election indicator.
Then the ninth inning will arrive – and that's the time when investors go crazy for stocks, just like they went crazy for real estate in 2006, or tech stocks in 1999.
While we are in the late innings of this great bull market, keep in mind, the biggest gains typically come in the final innings.
So I strongly urge you stay on board at least until the end of April… if not for longer…
The best times in stocks are still likely ahead of us, near the end of this great bull market.
The final – and best – two innings have just begun…
Good investing,
Steve
[ad#stansberry-ps]
Source: Daily Wealth