Chinese stocks are in a brand-new bull market.
The Shanghai Stock Exchange Composite Index (the "SSEC") – China's version of the Dow Jones Industrial Average – is up around 8% in less than a month.
[ad#Google Adsense 336×280-IA]It's up around 10% since we told you about Chinese stocks back in May.
And there are much larger gains ahead.
But after such a big run-up in a short amount of time, the SSEC is likely to suffer a brief pullback.
And that's when traders will have a chance to buy…
Take a look at this chart of the SSEC…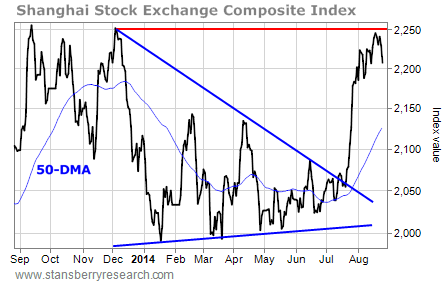 You can see the terrific rally that followed the breakout of the consolidating-triangle pattern (the blue lines) last month. The SSEC moved straight up to last December's high, where it hit resistance and pulled back.
Now take a look at the SSEC's 50-day moving average (DMA). The 50-DMA often serves as a magnet for stock prices. A stock rarely moves too far above or below its 50-DMA without coming back and testing the line as either support or resistance.
As you can see in the chart, it's rare for the SSEC to move more than 5% or so away from its 50-DMA. But after last month's big breakout, the SSEC was nearly 10% above its 50-DMA. That's too big of a move too soon. So now the SSEC is coming back down… And it will likely test its 50-DMA as support.
Traders should look to buy at that point.
China is in the early stages of a bull market. And there are big gains ahead. As I wrote last month, the SSEC could rally to 2,500 over the next few months. So traders should use any short-term weakness in Chinese stocks as a chance to get onboard.
Best regards and good trading,
Jeff Clark
[ad#stansberry-ps]
Source: Growth Stock Wire