Last week, I spoke at the Sprott Vancouver Natural Resources Symposium. So it makes sense that I still have natural resources on the brain.
As a result, this week I'm taking a look at the dividend safety of Vanguard Natural Resources (NYSE: VNR) as suggested by Antonio.
Vanguard Natural Resources is a Houston-based oil and gas developer with properties in the United States. It is a limited liability corporation (LLC) that is similar to a master limited partnership (MLP), particularly in the tax treatment of its distribution to shareholders.
[ad#Google Adsense 336×280-IA]It pays a generous 8% annual yield.
The distributions are paid monthly, not quarterly.
Two weeks ago, the company declared its distribution of $0.21 for August.
Vanguard has raised its distribution every year since it started paying one in 2008.
The lone exception was during the downturn in 2009, but raises quickly resumed in the first quarter of 2010.
The company also often boosts its distribution more than once per year.
Although 2014 has seen only one raise so far, last year Vanguard lifted the payout three times.
Where's the Cash?
In the first quarter of 2014, Vanguard Natural Resources did not generate enough distributable cash flow (DCF) to cover the distribution.
DCF totaled just $41.8 million while it paid out $50.1 million, a shortfall of $8.3 million. In other words, for every dollar in distributions sent to shareholders, the company generated only $0.83 in cash.
That's a problem and it caught Wall Street off guard.
Management said the shortfall was due to weather-related production delays and higher capital expenditures.
In 2013, the company just covered the distribution with $185.4 million in cash flow and $184.8 million in distributions. That's a coverage ratio of nearly 1.0.
The coverage ratio is the ratio of cash flow to distributions. We always want to see the coverage ratio at 1 or higher, because that means the company is generating enough cash to pay the distribution.
In 2012, the coverage ratio was better at 1.08 with $141.2 million in DCF and $130.6 million in distributions.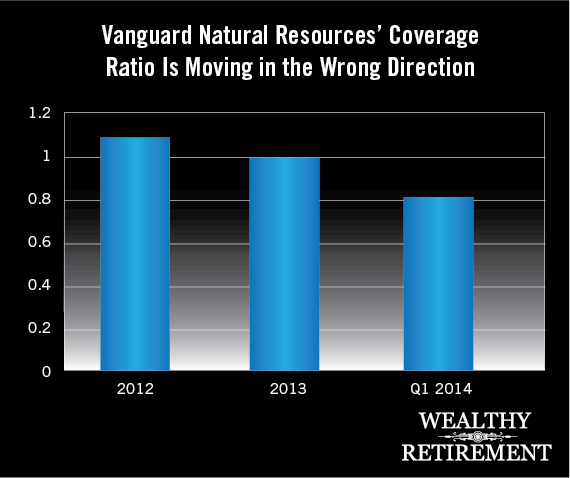 This concerns me that the company is not creating enough cash. In order to get the coverage ratio above 1, it will have to ramp up its cash flow in the next several quarters.
But on the company's first quarter conference call, CFO Richard Robert said he expects the coverage ratio to be between 1.05 and 1.1 in the second quarter and to be above 1 for the rest of the year.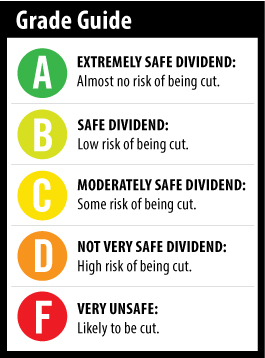 Considering the company's track record of reasonable coverage ratios and increased distributions, I suspect the distribution is safe.
I'm willing to give any quality company a quarter or two of difficulties as long as it returns to better performance shortly after.
Vanguard Natural Resources reports second quarter results next Monday, August 4.
For now, I'm giving it my highest rating.
But should the coverage ratio fall below 1 in the second quarter, I will likely downgrade it.
Dividend Safety Rating: A
— Marc Lichtenfeld
[ad#IPM-article]
Source: Wealthy Retirement