It's a tough time to be an investor in Europe…
Portugal's banking crisis is in full swing. And it's dragging European stocks down with it. Europe's blue-chip index – the Euro Stoxx 50 – is down 8% in the past month.
Portugal's stock market fell 14% over the same period.
This fall has made already cheap European stocks even cheaper.
[ad#Google Adsense 336×280-IA]But one country in particular stands out as the absolute best value.
And while today is a scary time to buy, it could lead to big gains.
Let me explain…
I've personally been writing about Europe since early 2012.
If you'd invested in European blue chips back then, you'd be sitting on 53% gains… more than the return on U.S. stocks over the same period.
European blue chips are still a great deal today… 16% cheaper than the U.S., based on forward earnings. But we can get even better value by putting our money in one of Europe's cheapest markets… Italy.
The table below shows exactly what I'm talking about. It compares Italy's stock market with Europe's other major stock markets. Take a look…
Italy's major market Index – the MIB – is cheaper than the rest of Europe, nearly across the board…
When you look at price-to-book value, Italy is 29% cheaper than Europe's blue-chip index. And it's more than 30% cheaper using price-to-cash flow.
Based on book value, Italian stocks would need to rise 40% just to reach the valuation of the Euro Stoxx 50. And remember, the Euro Stoxx 50 is much cheaper than the U.S.! So getting into Italy is buying the cheapest of the cheap…
Simply put, Italy is THE value investment of Europe's major stock markets. And our upside potential is huge.
The problem, of course, is that Italy's stock market is falling with the rest of Europe. As you can see in the chart below, the iShares MSCI Italy Fund (NYSE: EWI) has fallen 10% since early June.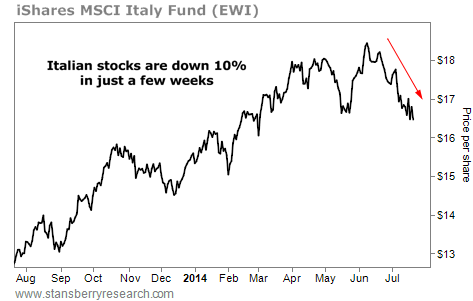 It's never a good idea to try to "catch a falling knife." It's usually safer to wait for it to hit the ground and move higher. And even though Italy is an incredible value today, we need to be patient.
If you're interested in Europe's best value – Italy – wait for shares of EWI to move above $17.50. If that happens, it'll likely mean we're past the "danger zone" Europe is in today… and that Italy's multiyear bull market is back.
Investors in Italy should be in for big gains… Don't miss out.
Good investing,
Brett Eversole
[ad#stansberry-ps]
Source: Daily Wealth