My True Wealth subscribers are up big this year in one of the market's most hated sectors – gold.
We bought in January… and we're sitting on 37% gains in the stock I recommended, as I write. That's a great gain in just five months.
But this is likely just the beginning…
As I'll explain today, there is still plenty of upside left in this particular stock – and yet this stock might be the safest gold stock you can own.
Our upside potential is so incredible here… simply because the crash in gold stocks in recent years was so dramatic…
[ad#Google Adsense 336×280-IA]Junior mining stocks plummeted an incredible 81% from 2011-2013.
Earlier this year, I explained what happens when a market falls by 80%. In short, it gives us a fantastic opportunity to buy…
The last time junior mining stocks fell by 80% – in 2008 – they rallied back a ridiculous 611% in roughly 2 years.
That's a crazy gain… and it's certainly possible again.
The problem is, junior mining stocks are risky. Could a junior mining company go out of business? Absolutely!
If the price of gold is lower than its cost of mining for very long, it's done. You can't forget that.
That's why I made a safer bet in True Wealth… Instead of buying a risky junior miner, we bought the safest kind of gold stock… a royalty company.
Specifically, we bought shares of Royal Gold (RGLD)… and up we're in 37% in just five months.
Royal Gold is a multibillion-dollar gold-royalty company. Its business is investing in gold-mining projects and collecting royalties. It doesn't do any mining or exploration itself… As I like to say, it's in the business of driving to the bank and cashing royalty checks.
It's one of the best business models I've ever seen. And after our 37% gain, Royal Gold is now in a serious uptrend. [Thursday], it broke out to a 16-month high…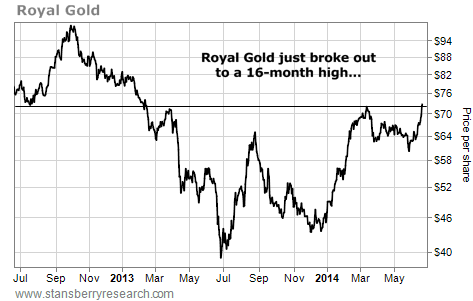 While that's exciting, please don't let that move scare you off… This kind of breakout is exactly what we want to see. And even though Royal Gold is up big so far this year, there is still plenty of upside potential remaining.
You see, the company is still dirt-cheap… even after the big move. Take a look…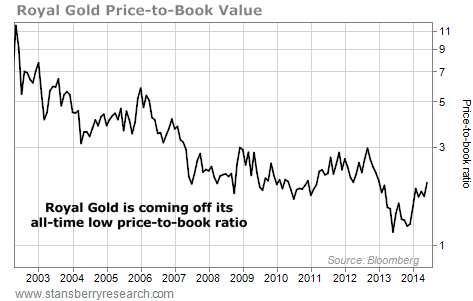 Based on book value, Royal Gold is extremely cheap. Heck, it's even cheaper than it was during its 2008 bottom – the last time gold stocks bottomed and then soared by hundreds of percent.
This is exactly what we want to see…
Gold stocks crashed in 2012 and 2013… Royal Gold is now bouncing back, and making new highs. Most investors aren't interested in gold stocks yet after the recent fall. Meanwhile, Royal Gold is still dirt-cheap, even after its rally.
We're up 37% in just five months, but there's a great chance this move is just getting started.
Royal Gold is still a fantastic buy today. Check it out.
Good investing,
Steve
[ad#stansberry-ps]
Source: DailyWealth