The Federal Open Market Committee (FOMC) announcement didn't surprise anyone yesterday.
At the end of its two-day meeting, the Federal Reserve said the same thing it has been saying all year: The economy is improving, but not too fast.
[ad#Google Adsense 336×280-IA]Inflation is under control.
The Fed will continue to taper its bond-purchasing program (a form of quantitative easing meant to keep interest rates low).
But it will also keep its target for interest rates low for the foreseeable future.
Like I said… no surprises.
But interest rates may give us one anyway…
Take a look at this chart of the 30-year Treasury bond yield…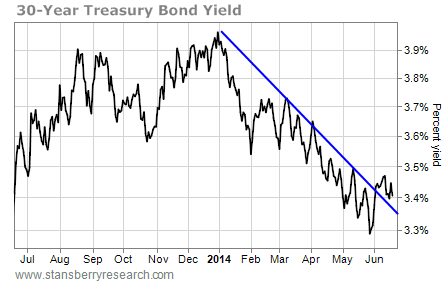 Interest rates have been falling all year. The 30-year Treasury yield kicked off 2014 at 3.95%. It dropped to as low as 3.3% three weeks ago.
With the FOMC tapering its bond-purchasing program, most analysts expected interest rates would rise. Instead, we got the opposite.
The fall in yields wasn't a straight shot lower. It was a stair-step decline of lower lows and lower highs. Today, interest rates are all the way back down to where they were last June – before the Fed even talked about tapering.
Today, it seems most analysts are expecting rates to continue even lower or at least remain at their current depressed levels. They argue the tapering program is going smoothly. Growth in the economy is slow and steady. And the Fed has everything under control.
But here's the thing…
Rates started moving higher three weeks ago. This time, the 30-year Treasury yield did not form a lower high. It rallied above the blue down-trending resistance line and gave the first signal that interest rates may be ready to start trending higher.
Rates have trended lower over the past week, and the yield is now retesting its former resistance line as support. If rates hold up here and start to bounce, we'll have the first set of higher highs and higher lows. That will likely indicate the start of a new uptrend for interest rates.
In short, despite what analysts say, interest rates look poised to rally.
Best regards and good trading,
Jeff Clark
[ad#stansberry-ps]
Source: The Growth Stock Wire