The coal sector is starting to attract contrarian investors.
As my colleague Matt Badiali pointed out last week, the price of coal is currently below its cost of production.
Coal miners can't sell the stuff at a profit.
Plus, new regulations proposed by the Obama administration threaten to make it more difficult for miners to make money – even if the price of coal recovers.
As a result, coal-mining stocks are trading near multiyear lows. But as Matt said, "this is exactly what contrarian investors like to see."
[ad#Google Adsense 336×280-IA]As we've explained before, buying into beaten-down natural resource sectors like coal is a proven, time-tested way to make money in the stock market.
These sectors go through big booms and busts.
The problem with most contrarians, though, is they tend to be early.
Think about it…
Everything we're saying about the coal industry today was also true at the start of 2013.
The sector was beaten-up… hated… and cheap. It was an attractive contrarian bet. But coal-mining stocks are down 20% from 2013. Contrarian investors who bought the sector last year were too early.
Folks buying today, though, may be closer to getting the timing just right…
Take a look at this chart of the Market Vectors Coal Fund (KOL) – which holds a basket of global coal stocks.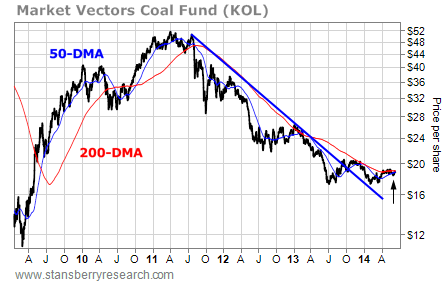 KOL broke above the blue down-trending resistance line on the chart in the middle of 2013. That was the first sign the sector was preparing for a turnaround. But KOL still had to deal with the resistance of its 50- and 200-day moving averages (DMA).
Earlier this year, KOL retested the down-trending line as support. And it held. Since then, the stock has been chopping back and forth in a tight trading range – which has given the 50- and 200-DMAs time to come together and start curling higher. This indicates KOL's momentum is changing to the upside.
With KOL trading above its former resistance line, and with the stock and its moving averages all coiled together, the sector is poised for an upside move.
It won't take much to start a move higher. If KOL can rally decisively above its moving averages, and if the 50-DMA can rally above the 200-DMA, that should be enough to kick off a new uptrend for the sector. If KOL rallies above $19 per share, traders should look to buy.
Best regards and good trading,
Jeff Clark
[ad#stansberry-ps]
Source: The Growth Stock Wire