Traders betting on lower oil prices may be in for a nasty surprise.
Historically, oil prices tend to peak around Memorial Day and then decline for a couple of months before rallying as we head into Labor Day.
With Memorial Day behind us and with oil inventories (oil in storage) near record-high levels, many traders are looking for lower prices in the months ahead.
But the price of oil looks ready to shoot higher…
Take a look at this chart of West Texas Intermediate crude oil (WTIC)…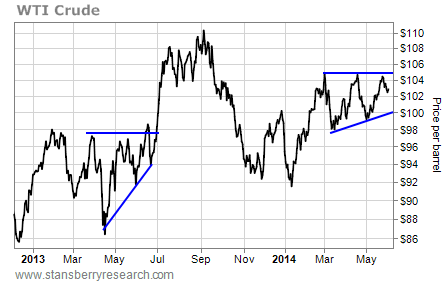 At about $103 per barrel as I write, the price of WTIC is a couple bucks below where it was on Memorial Day. It could fall further and test support at about $101. But the chart is tracing out an ascending triangle pattern (the blue lines).
[ad#Google Adsense 336×280-IA]This is a bullish pattern that consists of higher lows followed by rallies up to the same resistance level.
Most of the time, this pattern breaks out to the upside.
So oil is more likely to rally from here than fall.
Oil had a similar setup last year.
The price peaked around Memorial Day.
Then oil suffered a short-term decline.
That decline, though, formed a higher low and created an ascending triangle pattern on the chart. And in late June, oil broke out. It rallied $16 and peaked at $110 per barrel in September. A similar breakout this year above $105 could target the $112 level.
So despite the seasonal trend and a high level of oil inventories, the chart suggests oil prices are headed higher. I would think twice before betting on a decline.
Best regards and good trading,
Jeff Clark
[ad#stansberry-ps]
Source: The Growth Stock Wire