Something incredible is happening in emerging markets today…
As of this month, my True Wealth Systems "Super System" for emerging markets is now in "buy" mode. This is something you want to pay attention to. It has led to 28% annualized gains, based on history.
In short, this is something you need to take advantage of. Today, I'll show what my Super System is… and how you can easily put it to work in your own portfolio.
[ad#Google Adsense 336×280-IA]Let's get started…
Now you might be thinking: "Emerging markets?
Didn't Steve tell me to sell out of those recently?
Why would we get back in now?"
Yes, I did recommend selling emerging markets recently.
But when the facts change, we change with them.
Today, the TWS computers see a great opportunity in emerging markets. Our Super System is flashing "buy." Let me explain…
Our Super System for emerging markets is the combination of two simple concepts…
1. Our "Seven-Market Indicator"

2. Our Emerging Markets Trend System
Let's take a look at these systems, one by one…
The first system is what I call our "Seven-Market Indicator." This simple system is extraordinary. Here's how it works…
We started by selecting the largest emerging-market economies from around the globe. Once we selected the seven largest emerging markets, we needed to find a way to size them up.
We tested dozens of models. We found that emerging markets soar and crash in spectacular fashion. And we want to be a part of the moves higher.
A simple sign that an emerging market has upward momentum is if its stock market hits a 12-month high.
In short, you want to own emerging markets when the total number of markets that have hit 12-month highs this month is greater than the total number that have hit 12-month lows this month.
You want to sell when it's the opposite. That's it…
And history shows it's a great way to make money. Since 1993, following this simple system when in "buy" mode led to 24% compound annual gains in our emerging markets index.
Today, this indicator is flashing "buy" on emerging markets. But it gets better…
As I mentioned, momentum is a powerful thing in emerging markets. So we built our Emerging Markets Trend System specifically around momentum…
Emerging markets are prone to booms and busts. A simple trend system can capture most of those moves.
Historically, our Trend System returns 21.5% per year when in "buy" mode. That's a fantastic return. It's a signal that we want to follow. And right now, it says "buy."
Both of our main indicators for emerging markets are saying "buy" right now… and that means our emerging-markets Super System is in "buy" mode.
Based on history, our double-long emerging-markets index returns 28% per year when both of these systems are in "buy" mode. Take a look: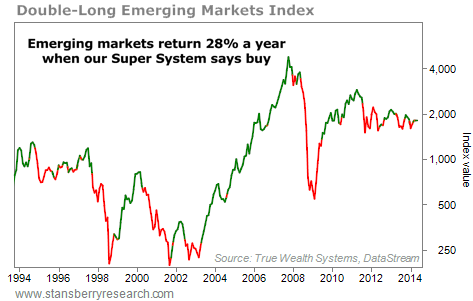 As you'd expect, putting these two systems together – creating our Super System – leads to great results. The chart shows it. Our Super System has caught every major bull market in emerging markets over the past 20 years.
This is a trade you don't want to miss. And an easy way to do it is with the ProShares Ultra MSCI Emerging Markets Fund (EET).
(A word of caution… Emerging markets are volatile by nature, and EET is a "leveraged" fund. That means it returns twice the daily return of the MSCI Emerging Markets Index. So keep in mind… while up days will be twice as good, the down days will be twice as bad.)
Our Super System "buy" signal doesn't happen often… less than half the time. But it has been good for 28% annualized returns when it says buy… And it's flashing "buy" today. So I'm happy to leverage-up with shares of EET.
Good investing,
Steve
[ad#stansberry-ps]
Source: DailyWealth