If you haven't taken my advice to buy Europe… don't wait much longer.
European stocks are really starting to move… and they have major upside potential.
For months now, I've been urging you to own European stocks. I've shown you how European stocks are cheaper than U.S. stocks. Plus, Europe's version of the U.S. Federal Reserve is committed to pushing up stock and real estate prices.
Right now, the market is moving in our direction…
[ad#Google Adsense 336×280-IA]For example, take a look at German stocks.
Germany is the fourth largest economy in the world.
It's the manufacturing engine of the European Union economy (which is larger than the U.S. economy).
An easy way to buy and sell German stocks is the iShares Germany Fund (EWG).
This fund lets you own Germany's biggest and best businesses.
It owns major German companies you've probably heard of like Volkswagen, BASF, Bayer, and Deutsche Bank.
As you can see from the chart below, EWG spent the last half of 2013 rallying from $26 per share to $31 per share. It spent the next five months "digesting" those gains. That period is likely over. In the past week, EWG has broken out to a new 52-week high.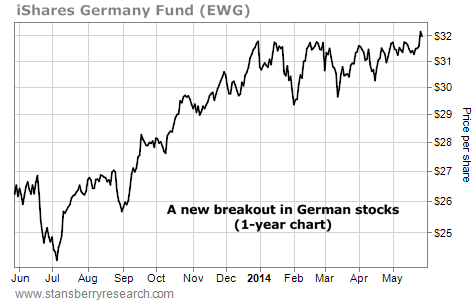 And German stocks aren't alone… The European market as a whole is sitting near 52-week highs. But this move is likely just getting started. Here's why…
As I've mentioned before, our thesis in Europe is simple.
Mario Draghi is the head of the European Central Bank. And right now he's taking a page out of former U.S. Federal Reserve Chairman Ben Bernanke's playbook.
In short, several years ago, Bernanke put unprecedented economic stimulus measures in place in the U.S. – cutting interest rates to zero and printing money. This caused stock prices (and other assets like real estate) in the U.S. to soar higher than anyone could have imagined. I call this the "Bernanke Asset Bubble," and it makes the U.S. appear much healthier than Europe today.
Now, Draghi is following Bernanke's lead.
In words practically straight from Bernanke's mouth, Draghi said interest rates in Europe will remain "at present or lower levels" for an extended period of time. He also said he's willing to deploy unconventional measures if needed. He said these things would likely happen in early June.
In the U.S., I've said we're in about the seventh inning of this great Bernanke Asset Bubble. I expect stocks in the U.S. can still go higher… but it's getting late in the game.
However, in Europe, we are probably closer to the fourth inning of the "Draghi Asset Bubble." So there's a lot left to go in that game.
In short, Europe looks a lot like the U.S. did a couple of years ago. It's cheap and folks aren't interested. Its central bankers are finally in panic mode, willing to crush the currency. A weaker euro will improve corporate profits, further helping European stock prices. Our opportunity is great.
And the recent breakout of German stocks (the "manufacturing engine" of Europe) is a great sign that things in Europe are starting to go our way. Don't miss out!
Good investing,
Steve
[ad#stansberry-ps]
Source: DailyWealth