As I write, subscribers to my True Wealth newsletter are up 98% on tech stocks…
Specifically, the ProShares Ultra Technology Fund (ROM) is up 98% since I recommended it in my newsletter just over three years ago.
Most investors would sell an investment that's up 98% in three years. But in my opinion, that's the wrong thing to do today… Our opportunity is still fantastic, even after 98% gains.
[ad#Google Adsense 336×280-IA]You see, in True Wealth, I look for investments that are cheap, hated, and in an uptrend.
We found this trifecta in technology stocks when we bought them in 2011.
The trade has worked out nearly perfectly so far.
And even after a 98% gain, tech stocks still fit my investment criteria.
Technology stocks are still cheap, hated, and in a strong uptrend. We still want to buy…
First, let's look at "value" in tech stocks…
Most people would have a hard time believing tech stocks could be cheap after the move up that we've seen… Many might even say that tech stocks are in a bubble. But take a look at this chart…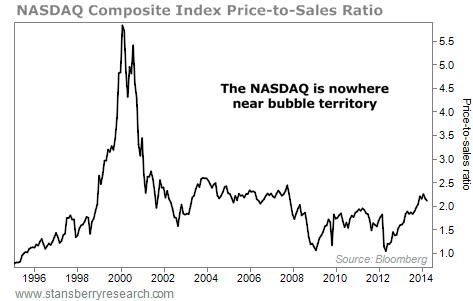 The chart above shows the price-to-sales ratio of the tech-heavy Nasdaq Composite Index. This index was in bubble territory when it traded for around six times sales in 2000. But today – even after nearly triple-digit gains – the index is nowhere near bubble territory. It's in line with its average value over the last decade.
The Nasdaq Index includes the darling tech stocks like Facebook, Twitter, and Yelp. But our way of investing in tech stocks – through shares of ROM – doesn't include these volatile names. It has the big names – the boring names – which are actually much cheaper. Take a look…
Apple (AAPL), Microsoft (MSFT), IBM (IBM), and Cisco (CSCO) are the kind of companies we're buying with shares of ROM. And as the table shows, they're still dirt-cheap…
ROM's top eight holdings – which make up over 50% of the fund – trade for an average forward price-to-earnings (P/E) ratio of just 13. That's incredible value after the move we've seen.
And this particular fund is double-leveraged… If tech stocks go up 1% in a day, this fund should go up 2%.
It works in reverse as well… If technology stocks fall 1% in a day, this fund should fall 2%. But at these cheap values in tech stocks… and in this low-interest-rate environment… this two-to-one deal is a risk I'm willing to take.
Despite the gains we've seen and the value that exists, investors still aren't that interested in these big tech names. The shares outstanding of the largest technology exchange-traded fund ("ETF"), XLK, are down around 15% since February.
(Remember, ETFs have the ability to create and liquidate shares based on demand. So we like to use total shares outstanding as an investor-sentiment gauge.)
Meanwhile, shares of our preferred investment, ROM, continue to soar…
ROM was below $30 per share five years ago. Today, it's around $120 per share. But our opportunity is still excellent. I know it's hard to believe. But it's true.
I hope you've been a part of this trade so far. We've made 98% gains, safely. But tech stocks remain cheap, hated, and in an uptrend. So we're staying in.
Don't cut this trade short. Don't lock in a 98% gain and leave a potential 200% total gain on the table.
We're on the right side of this trade. So we're sticking with it.
Good investing,
Steve
[ad#stansberry-ps]
Source: DailyWealth