Want to make a fortune trading commodities?
My friend Rick Rule knows as much about natural resource investing as anyone on the planet. He has made himself and his clients hundreds of millions of dollars in markets like gold, oil, uranium, copper, and natural gas.
Recently, Rick told me and a private group of investors that uranium is one of his favorite investment ideas today. He believes that people who buy it right now are practically guaranteed to make great money over the next five years.
And it all comes down to production costs…
[ad#Google Adsense 336×280-IA]Natural resource markets like copper and oil tend to go through huge booms and busts.
The booms draw in lots of investment into the industry as people rush to cash in on high prices.
After the capital is put to work, supplies surge and prices crash.
This causes money and investors to flee the sector.
When the capital dries up, production falls.
Low prices encourage increased consumption. A boom begins.
And today, Rick, the CEO of investment firm Sprott U.S. Holdings, thinks we have that setup with Uranium, which fuels nuclear power plants.
According to Rick, it costs about $70 a pound to produce uranium right now… But it's selling for under $30 a pound. As Rick likes to say, they're losing $40 a pound and "trying to make it up on volume."
Uranium got crushed following the disaster at the Fukushima nuclear plant in March 2011. Most of the world shunned nuclear power. Physical uranium and uranium stocks plummeted. Giant Canadian producer Cameco (CCJ), for example, dropped more than 60% from its 2011 peak.
The price of uranium fell from almost $73 a pound in 2011 to $28 a pound today. The price of uranium has fallen over 20% just this year… And that's from already depressed prices.
But the world needs uranium… It provides 16% of our power. And when people flip a switch, they expect the lights to go on. As Rick told us…
You can't not have nuclear. So the price has to go up… It doesn't have to go up next year or the year after, but it has to go up.
So today, we have an ideal low-risk, high-reward setup in uranium.
In the chart below, you'll see the price action of Uranium Participation Corp. (U.TO) over the past three years. U.TO is basically the "ETF" of uranium. It's a company that simply buys and holds large piles of the commodity. Since 2012, shares of U.TO have shown strong support near today's prices. Take a look…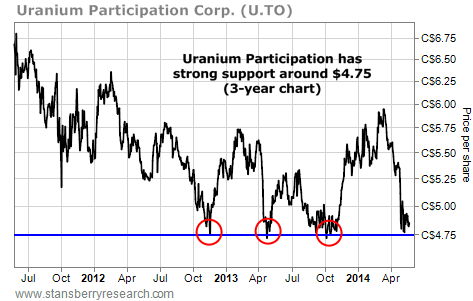 Rick believes that if you buy shares of Uranium Participation today, you're virtually guaranteed to make great money over the next five years.
Like he said, it's very, very unlikely that we'll see uranium prices go much lower from where they are now. The reason is simple: Producers can't make money at these depressed levels. If they stop producing uranium, supply will dry up. When the supply of anything dries up, prices rise. According to Rick, the question is not "if," but rather "when?"
And when uranium booms, it booms big…
For most of the 1990s, uranium traded for less than $15 per pound. In the early 2000s, it finally began to rise… and then it began to soar. In January 2005, uranium traded for $20.50 per pound… By mid-2007 the resource was up to about $135 a pound – a more than 550% run-up.
To sum up, uranium is incredibly out of favor right now. It's trading near record-low levels of the past decade. But demand is increasing because people like their electricity to work.
That makes uranium one of the best low-downside, high-upside bets in the world right now.
If you want a real shot at triple-digit gains, with little downside, look into uranium.
Good investing,
Sean Goldsmith
Sponsored Link: In just three days, Rick Rule is going to present his favorite ways to profit from uranium and other mispriced commodities at our resource-focused Stansberry Society event in Dallas. Joining Rick will be some of the world's most brilliant resource minds… Texas oil billionaire T. Boone Pickens is our keynote speaker. We also have Porter Stansberry, S&A Resource Report editor Matt Badiali – and many more.
It's too late to buy tickets for the event. But you can still watch the entire event live from your own home. And if you sign up to "livestream" our Dallas event, we'll also let you watch the other events we're hosting this year in Los Angeles and Nashville.
You can learn more about the natural resources conference and how to access the event right here…
Source: DailyWealth