Readers of Retirement Millionaire have made a fortune in this bull market…
Over the past five years, our average gain is 50%.
We've made such great gains by ignoring "doom and gloom" pessimists who would have you believe we're about to enter another depression. Instead, we've focused on facts, owned U.S. stocks, and we've made huge gains.
But no bull market lasts forever. And when a bull market is ready to end, there are some indicators that often flash warnings sings. We'll take a look at one of these indicators today…
[ad#Google Adsense 336×280-IA]While most investors imagine themselves as calculating and rational… the truth is, most are driven by misinformation and emotion.
As a result, when general optimism is at an extreme… when everyone is buying… that's usually the best time to sell.
A big drop is likely around the corner.
(The opposite is also true for times of extreme pessimism.)
That's the essence of what we call "being contrarian."
What does sentiment about the market tell us right now?
The American Association of Individual Investors ("AAII") – a nonprofit group focused on educating people on investing issues – publishes a weekly Sentiment Survey.
This is a reading of what percentage of individual investors consider themselves bullish, bearish, or neutral.
As I said, sentiment is often a contrarian indicator. When everyone is convinced that the market will continue rising and the bullish indicator hits an extreme high… that's when people get burned.
But right now, we're not at an extreme… Around 28% of individual investors think the market is headed higher.
That's high, but not enough to signal an imminent turnaround.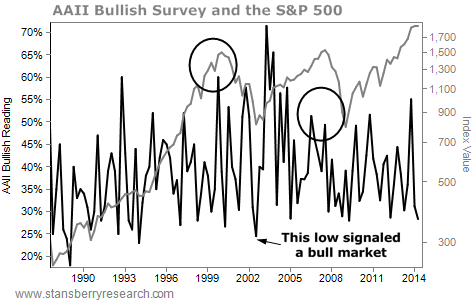 For example, before the dot-com collapse, 60% of investors were bullish. Before the 2008 bust, more than 50% of investors were bullish. Those are levels that signal a big turn.
Similarly, in 2002, when the bullish reading was at its lowest in almost 13 years, the market roared higher over the next five years.
There was also the high reading earlier this year. In January, about 55% of investors reported feeling bullish… just before the market cooled a bit.
Right now, you can find plenty of financial commentators claiming that the market is due for a turnaround. But it's not truly overheated. We won't likely reach a peak until the most ardent perma-bears throw up their hands and start investing.
So with the market likely to keep plowing higher, I'm urging my readers to continue buying quality U.S. stocks… including two that I've mentioned here recently, Chevron (CVX) and Microsoft (MSFT).
Here's to our health, wealth, and a great retirement,
Dr. David Eifrig Jr.
Sponsored Link: I recently produced a book with S&A Editor in Chief Brian Hunt. It lays out the exact options strategies I've used in my Retirement Trader service to deliver dozens of winning trades each year. Probably fewer than 1% of the investors in America know about, use, or understand these strategies. The book also lists the 25 best stocks to trade using these strategies. They're among the safest, highest-quality stocks on the market (like Chevron and Microsoft).
We believe these ideas are so important, everyone should know them. And when you read about them, you may never want to invest the traditional way ever again. For the full details on this book – including how to get your copy now – click here.
Source: DailyWealth