It's time to take profits on the oil sector.
Last month, we told you there were more gains ahead for oil stocks.
We said lagging oil stocks – that started out the year in bad shape – playing catch-up would keep the oil sector moving higher in the near term.
The NYSE Oil Index (the "XOI") is up 6% since our essay. That's a terrific move in one month. But now it's time to cash out…
The oil sector has had a great run. But as you can see from the chart of the XOI below, the sector looks due for a break.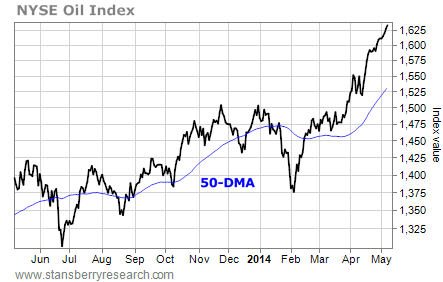 The XOI has extended too far above its 50-day moving average (DMA). The 50-DMA acts like a magnet for the oil sector. The XOI rarely strays more than 5% or so away from the 50-DMA before it reverses course and drifts back toward the line.
[ad#Google Adsense 336×280-IA]Right now, the XOI is nearly 7% above its 50-DMA.
That's one of the biggest gaps over the past year, and it suggests the sector is due for a break.
The oil sector bullish percent index also gives us a good reason to be cautious.
A sector's bullish percent index points out times of extreme optimism or pessimism in stocks and warns of a possible reversal.
It charts the percentage of stocks in a sector trading in bullish formations, and can range from zero to 100.
Typically, anything more than 80 is overbought, and anything less than 30 is oversold.
When a bullish percent index reaches oversold levels and turns higher, it generates a buy signal for the sector. When it hits overbought levels and turns lower, it signals it's time to sell. Here's how the oil sector bullish percent index looks today…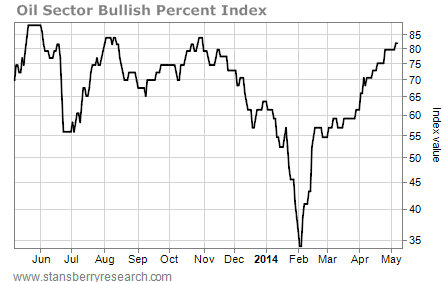 Oil stocks are more overbought than they have been since last November – just before the XOI fell 8% in two months.
The sector has enjoyed a solid run over the past five weeks. Let's cash out now. We can look to get back in after oil stocks cool off a bit.
Best regards and good trading,
Jeff Clark
[ad#stansberry-ps]
Source: The Growth Stock Wire