Most investors have forgotten about silver.
After rallying in February, silver prices fell more than 10%. And prices have mostly gone nowhere this month.
But if you've been reading Growth Stock Wire, you know we think silver is likely to rally in the months ahead. And right now, the market is giving us a huge discount.
Let me explain…
[ad#Google Adsense 336×280-IA]In 2011, both silver and gold prices peaked before steadily declining.
Silver prices are down 60% from 2011.
Meanwhile, gold prices are down 32%.
This makes silver extremely cheap.
You see, in April 2011, you could buy 32 ounces of silver for the price of an ounce of gold.
Today, you can buy more than 66 ounces of silver.
How much silver you can buy for the price of an ounce of gold is called the silver-to-gold ratio. In the chart below, you can see the silver-to-gold ratio is approaching its five-year high.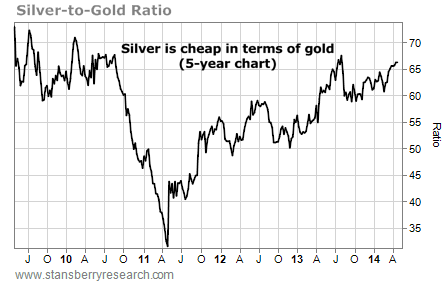 Historically, the price of gold is around 15 to 16 times higher than the price of silver. Based on the long-term historical-average ratio, with the price of gold at around $1,300 today, the price of silver should be around $81-$86. But on Monday, silver closed at just $19.56.
So silver is exceptionally cheap in terms of gold right now. Eventually, either the price of gold will have to fall or the silver price will have to rise to return the ratio to normal.
And with strong silver demand, it's likely the price of silver will rise.
You see, silver is useful. The metal has more than 10,000 commercial uses. Investors have filed more patents on silver uses than any other precious metal in the world. Manufacturers use silver as a raw material in their production processes. It's used in products like mobile phones, tablets, and computers. Half of the silver consumed in 2012 was in the manufacturing and photography sectors.
And once silver is consumed, it is often gone forever. It costs too much to recycle the tiny bit of silver from each cell phone or casino chip.
Demand for the metal is strong worldwide – especially in Asia. For example, news agency Reuters reports India imported more than 175 million ounces of silver last year. This was a more than 60% increase over 2012. This is a big number, considering Thomson Reuters, a metal markets research firm, estimated the total silver supply to be 1.05 billion ounces in 2013.
If you haven't thought about silver lately, I recommend you look at it again. It's cheap and in demand.
The three easiest one-click ways to buy silver are through the iShares Silver Trust (SLV), the Sprott Physical Silver Trust (PSLV), and the Silver Bullion Trust (SBT.U).
I recommend looking into these funds today.
Good investing,
Brian Weepie
[ad#stansberry-ps]
Source: The Growth Stock Wire