Many gold-stock investors are selling right now.
The choppy, back-and-forth action in the gold sector over the past few weeks is frustrating gold bugs. It's causing many of them to bail out of the sector.
They're making a mistake. We're about to see BIG gains in gold stocks. And now is the time to buy.
[ad#Google Adsense 336×280-IA]Let me explain…
We started the year expecting a rally in the gold stocks.
And we weren't disappointed.
The Market Vectors Gold Miners Fund (GDX) rallied nearly 40% from its bottom in December to its top in March.
That's the sort of rally that almost always kicks off a new bull market.
But it's also the sort of rally that creates a "buying panic" as investors fear the train is leaving the station without them onboard… So they chase stocks higher into overbought conditions.
That's why we warned against buying gold stocks at the highs in March. We said to wait for the inevitable pullback that occurs as disappointed investors bail out of the sector.
That's where we are right now.
Gold-stock investors are pessimistic again. They bought into the big run up earlier this year. Now they're selling in frustration as the sector chops back and forth and can't seem to gain any ground.
That's a mistake. Traders should be buying the gold sector right here.
A young bull market's job is to buck off the riders. That's exactly what the gold-stock bull market is doing. It's frustrating the traders and forcing them out of positions before the big gains occur.
At times like this, traders need to remember how bull markets work. They start off with a huge rally off the bottom and extreme oversold conditions. The first peak happens as stocks extend into extreme overbought territory and folks chase stocks higher into overbought conditions.
Then there's a quick pullback that erases a good chunk of the previous rally and puts most of the traders underwater on their positions. Next comes the frustrating back-and-forth action.
It's torture to sit through. But if you can withstand the torture, there are big, BIG gains ahead when the young bull starts its next move higher.
I suspect that "next move" will happen soon. Take a look at this chart…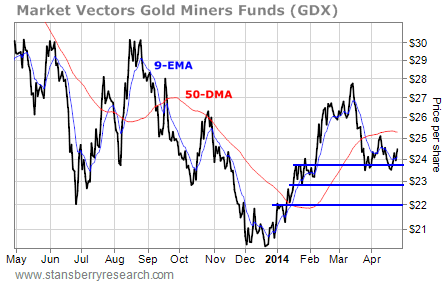 So far, GDX has retraced about 50% of the rally from the December low to the March high. That's about normal for the first correction phase of a new bull market.
GDX has already made a few tests of the $23.50 support level. It held support and is now attempting to rally above its nine-day exponential moving average (EMA). That will be the first step toward starting a new bull leg and another surge higher. The next step will be to rally back above the 50-day moving average (DMA) just over $25.
This is the point at which gold bulls should buy gold stocks.
There are multiple layers of support below at $23.50, $23, and $22. And there's minimal resistance overhead… first at $25, then at the March high near $28.
If you believe, as I do, that gold stocks have entered a new bull market, this is the time to be accumulating shares.
Best regards and good trading,
Jeff Clark
Sponsored Link: I've recently recommended several gold-stock option trades to my S&A Short Report subscribers. Each one has the potential for triple-digit gains. To find out how to profit from the next big move in gold stocks, click here.
Source: The Growth Stock Wire