Your best opportunity for a safe "yield" today is taking your money OUT of the U.S. dollar… and putting into a safe currency the world has left for dead…
You know the story… Cash in the bank in U.S. dollars pays you nothing. Or you can earn a measly 2.7% interest – if you're willing to lend money to the U.S. government for 10 years.
But who wants to do that?
[ad#Google Adsense 336×280-IA]In short, finding any kind of safe yield is nearly impossible.
If you need yield, I've got you covered – but it's a non-traditional "yield" idea.
It might not be the right trade for you… I'll let you be the judge.
But this idea could safely return 10%-plus over the next year, in our zero-percent world.
Importantly, we'll make this "yield" by moving money OUT of the U.S. dollar and into another HATED currency – the Canadian dollar.
History shows we could earn 10%-plus over the next year in the Canadian dollar – safely – as things go back to normal.
Let me explain…
The "yield" we'll earn in the Canadian dollar isn't traditional… It isn't a cash payment hitting your bank account. Instead, we're betting the value of the Canadian dollar will head higher. History shows we can make this bet safely, with 10%-plus upside and just 2% downside risk.
There are two major reasons I expect the Canadian dollar to move up in value. Let's look at them one by one…
First, the Canadian dollar is a "commodity currency." This simply means that Canada's currency tends to fluctuate with commodity prices.
It makes sense… Canada is in the top 10 of global oil exporters. The country also exports tens of billions of dollars per year in gold and coal. Naturally, Canada's economy – and currency – move alongside commodity prices.
That simple relationship has worked throughout history. But it isn't working this year. Commodity prices are on the rise… and the Canadian dollar is falling. Take a look…
As you can see, the Canadian dollar tends to track commodity prices. But the relationship broke down in 2014… Commodities are up 11% and the Canadian dollar is down 3.5%. This has happened for a simple reason…
Investors HATE the Canadian dollar. They want nothing to do with it right now. But this disinterest has reached an extreme. Everyone is already in the "short Canadian dollar" trade. And that gives us a great opportunity to make a contrarian bet.
The chart below shows what I mean. It's the Canadian dollar versus the Commitment of Traders ("COT") report. The COT report shows what real futures traders are doing with their money.
When traders all make the same bet, the opposite tends to happen. And right now, futures traders all expect the Canadian dollar drought to continue. Take a look…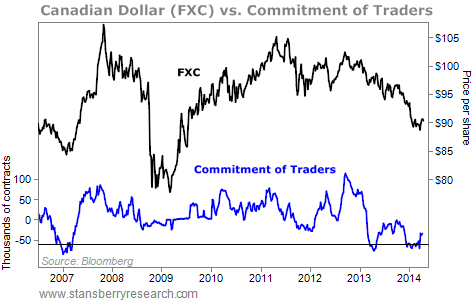 The COT has only been this negative two other times in the past eight years. And you can see that the 2013 extreme didn't lead to a bounce in the value of the Canadian dollar. But remember, commodities were in the middle of a strong bear market back then.
Today, commodity prices are moving higher… much like they were during the early 2007 extreme. Back then, a continued rise in commodity prices – combined with a negative extreme in the COT – led to a 27% increase in the Canadian dollar in less than a year.
Now, I don't expect we'll see 27% gains today, but circumstances are similar to what they were in 2007. Commodities are on the rise, and investors hate the Canadian dollar. We need to take advantage of it!
You can easily make this trade with the CurrencyShares Canadian Dollar Trust (FXC) – a simple ETF that tracks the Canadian dollar.
FXC could rise to $100 or more from here, as things get back to normal. That gives us 10%-plus upside. And if we set a stop at last month's low – $88.41 – our downside is around 2%.
That's a great risk/reward opportunity. And it gives us a chance to earn 10%-plus in non-traditional "yield" right now.
If you're after a safe "yield," get money out of the U.S. dollar and into the Canadian dollar now.
Good investing,
Brett Eversole
[ad#stansberry-ps]
Source: DailyWealth