A small oil and gas company named Penn Virginia (PVA) is soaring right now.
Shares are up an incredible 300% in the last 12 months.
And knowing the reason why can make you a LOT of money over the coming years…
Last week, I told you about the "shift" in U.S. oil production. In short, oil production is dropping in some of the top U.S. oil-producing areas like Alaska, the Gulf of Mexico, and California.
[ad#Google Adsense 336×280-IA]Meanwhile, oil production in Texas and North Dakota has been steadily increasing.
It was up 29% in each of these states in 2013.
This "shift" in where oil is produced is due to the growth of "unconventional" oil production in shale areas like Texas' Permian Basin and Eagle Ford and North Dakota's Bakken.
New technologies like fracking and horizontal drilling allow oil companies to drill multiple wells in the same drilling site in these shales, rather than the conventional method of just one well at each site.
This dramatically increases oil production.
More and more oil companies are choosing to invest in shale areas as a result.
S&A Resource Report recommendation Penn Virginia (PVA) is one of these companies.
In the past, its focus was on natural gas. But it recently switched its focus to oil. In 2011, it generated just 40% of its sales from oil. Last year, it generated 81% of its sales from oil.
However, the company didn't buy just any oilfield. It shifted its focus to the Eagle Ford.
In 2010, Penn Virginia owned 6,800 net acres in the Eagle Ford. Today, it owns 12 times that many. And it is acquiring more.
Penn Virginia now has a 10-year drilling inventory in the Eagle Ford. This inventory continues to grow as the company finds more reserves.
And since 2011, Penn Virginia's oil production in the Eagle Ford has grown almost fourfold.
As a result, Penn Virginia's stock price is up nearly 300% in one year. S&A Resource Report subscribers are up about 133% in six months.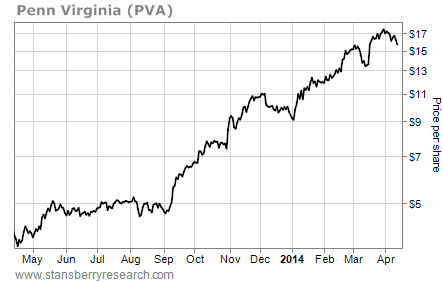 And at this pace of growth, the price should continue higher.
Other companies that are profiting from the "shift" in oil production are Sanchez Energy in the Eagle Ford and Laredo Petroleum in the Permian Basin. Both of these companies own prime real estate in these areas. As a result, their oil production – and share prices – should increase in the years to come.
I suggest getting some exposure to these companies before they take off.
Good Investing,
Brian Weepie
[ad#stansberry-ps]
Source: The Growth Stock Wire