Hellmann's or Head & Shoulders? Dove or Duracell? Ben & Jerry's or Braun?
These are just a few of the household name brands by consumer goods powerhouses Unilever (NYSE: UL) and Procter & Gamble Company (NYSE: PG).
Which one has a safer dividend? That was the question submitted by T-bone this week, or as he's better known, Neil Watkins from Accounting.
[ad#Google Adsense 336×280-IA]We'll start with Unilever… Along with Hellmann's, Dove and Ben & Jerry's, some of its other well-known brands include Vaseline, Lipton, Axe and Pond's.
The U.K.-based company currently sports a 3.7% dividend yield.
The company doesn't have a great track record as far as dividend raises, but some of that may be due to currency issues.
In 2012, the dividend was slightly lower than in 2011.
In 2013, Unilever generated £4.5 billion in free cash flow, while paying £3 billion in dividends, for a payout ratio of 67%.
That's below my 75% threshold for safety. It tells me that the company can likely withstand a rough year or two without shareholders having to worry about a dividend cut.
Even though Unilever paid out half a billion pounds more in dividends over the past two years, its payout ratio has declined slightly from 69% in 2011 to 67% last year, due to strong cash flow growth.
This year, Unilever's free cash is projected to be about the same as last year but growing by 30% by 2016.
And in This Corner…
Our heavyweight contender, Procter & Gamble, has some of the best-known brands in America including Gillette, Crest and Tide.
The Cincinnati-based company pays shareholders a 3% annual yield. In fiscal 2013 (ending in June), it generated $10.8 billion in free cash flow, while paying out $6.5 billion in dividends for a payout ratio of 60%. That's down from 66% in 2012, although up slightly from 2011′s 58%.
Wall Street projects free cash flow to decline slightly in 2014, but, like Unilever, to grow by 30% in the two years following.
When it comes to dividend track records, P&G is tough to beat. It has raised its dividend every year for 57 years. Since 1957… The year that Pat Boone, Sam Cooke, Debbie Reynolds and Elvis Presley dominated the music charts.
And the company has raised the dividend by an average of 10.6% per year over the last decade.
I've studied dividend track records for a long time and that's as good as you're going to find.
Comparing the two, Unilever's dividend appears plenty safe. However, Unilever's rating gets taken down a notch because its dividend was decreased recently.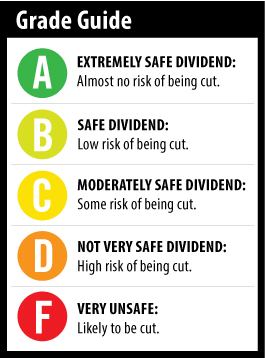 Even though it wasn't by much and was likely due to currency issues, I can't give it a free pass.
On the other hand, Procter & Gamble's dividend looks as solid as a dividend can be.
With a reasonable 60% payout ratio and a near six decade history of annual dividend raises, I expect the company to continue raising dividends for years to come.
So while both dividends are safe, I have to give the edge to Procter & Gamble, which is simply one of the greatest dividend stocks of all time.
Unilever Dividend Safety Rating: B
Procter & Gamble Dividend Safety Rating: A
— Marc Lichtenfeld
[ad#sa-income]
Source: Wealthy Retirement