Over the past few months, junior mining companies have exploded higher… But you won't see it mentioned in the mainstream press.
Regular Growth Stock Wire readers know we keep close tabs on small resource stocks. Because this sector regularly goes through huge booms and busts, it's a good friend to the speculator. Get in the booms early and avoid the busts, and you can make huge returns.
For the past three years, the mining sector has been in bust mode. Nearly all mining stocks have hit 52-week lows since June 2013.
[ad#Google Adsense 336×280-IA]But within the past few months, these stocks have broken out.
Many are now up 100% or more this year.
And this "stealth" bull market is likely headed higher…
Many gauge the price action in junior miners by looking at the Toronto Venture Exchange.
With over 1,130 junior miners listed, it's considered the "Dow Industrials of junior mining stocks."
But junior miners only make up about half of the stocks in the index.
The rest are health care, energy, and services companies. So while junior miners are moving up rapidly, the other half aren't, which dilutes the chart.
The Toronto Venture Exchange is up around just 18% from its June 2013 low. The booming junior miners are lost among the rest of the stocks in the index. If you didn't know what to look for, you'd never know this bull market is happening.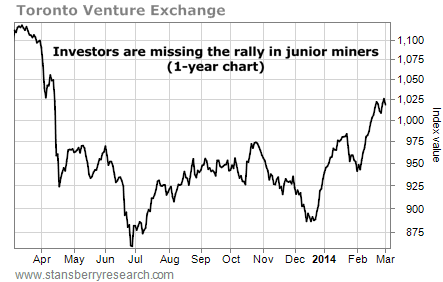 But if you look at junior mining stocks individually, you can see the huge gains they've made this year.
Take a look at this chart of Yukon gold explorer ATAC Resources: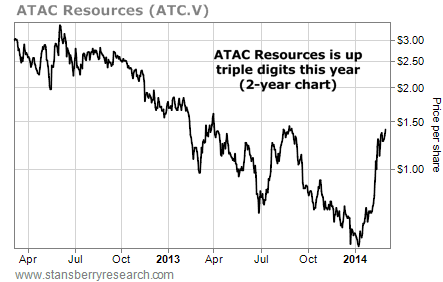 Since bottoming in January 2014, it has gained 160%. And it's not the only junior miner breaking out this year…
Remember, the mining sector regularly goes through huge booms and busts. It tends to draw in "hot money" every few years – sending these companies up thousands of percent. But these booms are followed by big busts. That's what we've seen over the last three years. Now, it looks like junior mining stocks are getting ready to boom again.
Investors are pouring money into the resource sector right now. Gold, silver, and uranium are also up big this year. And junior mining companies have been so oversold that things getting just a little "less bad" will continue to push shares higher.
If junior miners are entering boom mode, early investors stand to make extraordinary returns.
Good investing,
Matt Badiali
[ad#stansberry-ps]
Source: The Growth Stock Wire