Quantitative easing might finally be taking its toll.
For years, many economists have argued that central banks' money-printing policies would create inflation… leading to higher agriculture prices (among other things) and riots around the world.
So far, agricultural commodities prices have stayed relatively low. For the last three years, they've been in a bear market. And falling food prices have masked the increase in prices of other things – like health care and electricity.
[ad#Google Adsense 336×280-IA]But as you can tell by walking into any grocery store, food prices are going up – fast.
And it could lead to trouble…
Yesterday, I paid $8.99 for a pound of bacon.
It wasn't the fancy, gourmet bacon, either.
It was the pre-sliced, shrink-wrapped stuff you find in the packaged-food section of any supermarket.
It was $4.99 a pound a few weeks ago.
Bacon isn't the only food going up. Beef, chicken, milk, and cereal prices are all headed higher in the U.S. and around the globe.
Here's an updated chart of the PowerShares Agriculture Commodity Fund (DBA) – a basket of 17 different agricultural commodities – I showed you a couple weeks ago…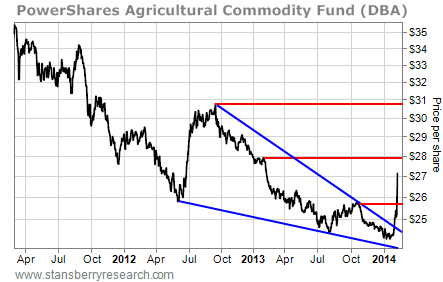 DBA is already up 13% this year. Since my last essay, it has broken through its first resistance level at about $25.70. It is now approaching its 2013 high near $28 per share. Over time, it may even challenge its 2012 high, just above $30.50 per share.
But the price increases of the individual commodities that make up this fund are even more startling. For example, wheat is up 15% in 2014. Sugar has risen 20% in just the past month. And the price of coffee is 70% higher than where it was last November.
After a long bear market, quantitative easing is finally pushing agricultural commodities higher. And they show no signs of stopping.
This means a strain on our wallets in the U.S. It could also mean riots around the world…
Generally speaking, a well-fed population is less likely to rise up in violent protest against its government. People will put up with a lot as long as they're not starving.
But when they're hungry and prices have risen so much that they can't afford to feed their families, look out. That's when the trouble begins.
Today's prices probably aren't enough to cause any riots. But if prices keep escalating, I suspect we'll soon find out what price will do the trick.
Best regards and good trading,
Jeff Clark
[ad#stansberry-ps]
Source: The Growth Stock Wire