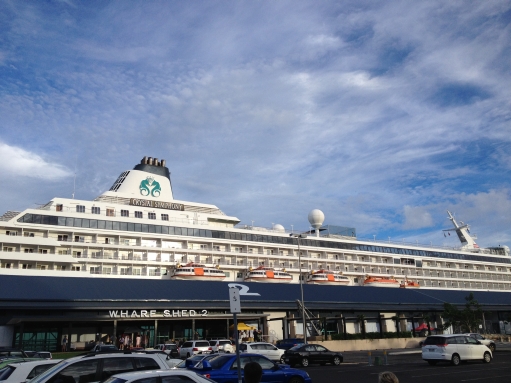 The Crystal Symphony is my home for the next week.
If you're wondering what that is, I snapped a photo of it as my wife and I were walking toward it to board.
I'm speaking on the ship as part of The Oxford Club's Chairman's Circle Cruise to Australia and Bali.
It's a perk of my job that is tough to beat.
There are a slew of Members joining us on the cruise – all enjoying the "good life."
I'll admit, the cruise is not cheap. These Members paid a pretty penny to join us Down Under.
[ad#Google Adsense 336×280-IA]But that's not my point.
My goal is to show you the sort of investing strategy it takes to be able to afford such luxurious trips.
The strategy I beg all future retirees to use is easy, requires very little effort and, best of all, has a track record of success that's nearly a century old.
If you want to be able to travel, go out to nice restaurants or simply be free of financial stress, all you have to do is pick great stocks that pay a growing dividend, reinvest those dividends and hold on for as long as possible.
It's that easy.
Imagine if 20 years ago, you noticed that your kids were always asking to eat at McDonald's (NYSE: MCD). After doing a little research, you bought $10,000 worth of stock, reinvested the dividends and held on.
Today, you'd be sitting on $589,000.
Or what if you realized that Colgate toothpaste and Palmolive dishwashing liquid were popular buys at the grocery store and after doing your homework saw that Colgate-Palmolive (NYSE: CL) had raised its dividend every year since 1964 and was a solid conservative stock?
If you had bought $10,000 worth of stock in 1994, it would be worth $1,010,000 today.
Let's make sure you read that right. Ten grand 20 years ago is worth over $1 million today.
Never a Down Decade
During the cruise, I had dinner with a gentleman who did very well in real estate.
Twenty years ago, he bought a piece of property for about $150,000. He did extremely well, selling it a few months ago for more than $1.5 million. That's a tenfold increase in 20 years. Anyone would be happy with those kinds of results.
But look again at the numbers I showed you on those conservative stocks. McDonald's went up nearly 60 times in 20 years. And Colgate was up 101 times.
I'm not saying don't buy real estate. Lots of wealthy people have made a ton of money on real estate. I own some too. But being in the right dividend stocks can change your life.
And we're not talking about speculative, shoot-for-the-moon type stocks. Is anything more boring and conservative than toothpaste and dishwashing liquid?
But is there anything more exciting than a 10,000% gain?
It is extraordinarily difficult to match that kind of performance in any asset class, especially when you take risk into consideration.
If you're buying speculative investments, trying to just double or triple your money, you take on a significant amount of risk. When you buy a Perpetual Dividend Raiser – a stock that raises its dividend every year – you're actually investing in one of the most conservative parts of the stock market.
In fact, in the 20 years that the Dividend Aristocrat Index has been around, it has never been negative over any 10-year period, including the Great Recession in 2008 and 2009. Dividend Aristocrats are stocks in the S&P 500 that have raised their dividend every year for at least 25 years.
And the broader market has a 91% success rate over the last 80 years when you hold on for 10 years. Truth is, the only times an investor could have lost money over a 10-year period was if he sold during the depths of the Great Depression or Great Recession.
So if you want to join me and my wife on cruises sometime in the future (and believe me, you do, we're a lot of fun), start investing in Perpetual Dividend Raisers today.
— Marc Lichtenfeld
[ad#DTA-10%]
Source: Wealthy Retirement