The stock market should be falling.
Last week, many technical indicators were showing negative divergence.
[ad#Google Adsense 336×280-IA]We also had an early warning sign that the Volatility Index (the "VIX") was about to reverse.
And the McClellan Oscillator showed that stocks were overbought.
Just about everything was pointing to a short-term stock market decline. But the S&P 500 made a new all-time high yesterday.
So here's what you should do now…
As you can see in the 60-minute chart of the S&P 500 below, the market doesn't agree with the technical analysis.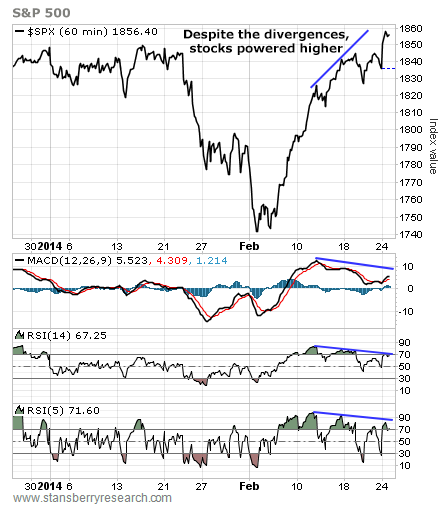 The market is "wrong." But as traders, we can't get caught up with that. It doesn't matter what should have happened. And we can't worry about whether or not the market may still decline. The bottom line is, for the moment, the momentum train is running higher. You can either hop on board, get out of the way, or get run over.
Personally, I prefer not to chase stocks higher into overbought conditions. Chasing overbought or oversold conditions leaves traders vulnerable to sudden reversals. That's a dangerous strategy.
But staying put and sticking with a trade that is going against you is even more dangerous.
It doesn't matter how "right" you are. If the market doesn't agree, it will run you over.
Think about it this way…
By just about any measure, Tesla (TSLA) is a tremendously expensive stock. But that was true $100 per share ago. It doesn't matter how "right" you are and how "wrong" the market is. If you've been standing in front of the Tesla momentum train, you've been run over plenty of times over the past few months.
We can say the same thing about Facebook (FB), LinkedIn (LNKD), and any number of other high-priced stocks.
We can make plenty of arguments about why stocks in general are overpriced, and why the S&P 500 should be falling. But right now, the market doesn't agree. And price action is the ultimate judge.
As traders, when we're faced with the choice between getting run over or getting out of the way… It's best to just get out of the way.
Best regards and good trading,
Jeff Clark
[ad#stansberry-ps]
Source: The Growth Stock Wire