India's currency fell 17% over the summer… echoing a broad selloff in emerging markets.
It has lost over a third of its value since summer 2011. Investors have given up.
Meanwhile, the Indian rupee is 66% undervalued, according to one popular measure of currency value.
Is it finally time to buy India's rupee?
[ad#Google Adsense 336×280-IA]It might be…
I can't give you the "on the ground" story from India today.
But I can tell you that India's rupee has everything we look for in an investment…
It's 1) cheap and 2) hated, as I've said.
And now, it's 3) in the start of an uptrend.
While nobody was paying attention, India's currency has been quietly recovering…
It's up 10% from its bottom late last year.
Take a look: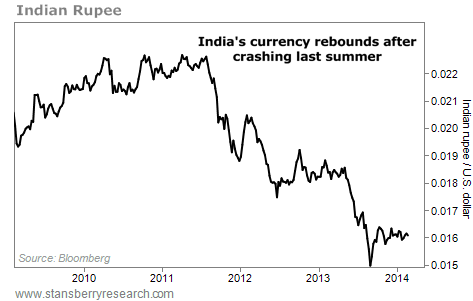 These are the conditions that we like to see…
You can set up a solid trade here… where your downside risk is small and your upside potential is pretty darn good (for a currency trade).
We have two easy ways to play this… and both of them are good…
Idea No. 1: Buy the WisdomTree Indian Rupee Fund (ICN) at today's price (around $20), and set a tight stop loss at $19.50 – which would be a new low for this year. If this fund closes at $19.50 or lower, sell it. That limits your downside risk… And your upside potential is big. (See www.WisdomTree.com for more details.)
Idea No. 2: Buy EverBank's India Rupee three-month CD – which has a 6.5% interest rate…
There aren't many places you can get interest rates this high in the world right now. And this CD is from a U.S. bank – EverBank. A 6.5% tailwind is great…
(Longtime DailyWealth readers know that we've been friends with the EverBank World Markets founder Frank Trotter and his team for many years. They have a great track record of taking good care of our readers.)
India's currency is cheap, hated, and now in an uptrend.
I will be looking into it more… And I suggest you do, too…
Good investing,
Steve
[ad#stansberry-ps]
Source: DailyWealth