By the time you read this, I will be boarding the Crystal Symphony in Cairns, Australia, as part of The Oxford Club's Chairman's Circle Wealth Cruise from Australia to Bali, Indonesia. I hope my family appreciates what I have to do to put food on the table.
In honor of the faraway trip, this week's Safety Net will focus on a company located outside the United States, although not too far. Paul asked me to take a look at Royal Bank of Canada (NYSE: RY).
Toronto-based Royal Bank of Canada pays a quarterly dividend and currently yields 3.8%.
[ad#Google Adsense 336×280-IA]It has paid a dividend since 1997, and it boosted the payout every year until the Great Recession.
In 2009, the company cut the dividend by 10%, but the next year it was back to 2008 levels.
Since 2010, Royal Bank of Canada has raised the dividend by a compound annual growth rate of 9.5%.
(Due to currency fluctuations, there is some variance in the dividend.)
So, other than that hiccup in 2009, the track record is solid.
More Where That Came From

I expect Royal Bank of Canada to continue to pay and raise the dividend.
In fiscal 2013, which ended in October, the bank generated C$6.3 billion in free cash flow. Of that, it paid out C$3.8 billion in dividends for a payout ratio of 61%, which is below my 75% threshold.
If a company's payout ratio is below 75%, I am comfortable that it can sustain its dividend in the near term. Above that, the dividend may be susceptible to a cut if the company has a bad year or two.
This is a better payout ratio than it's had over the past few years as cash flow grew meaningfully in 2013 and should continue as earnings are projected to rise 10% annually over the next five years.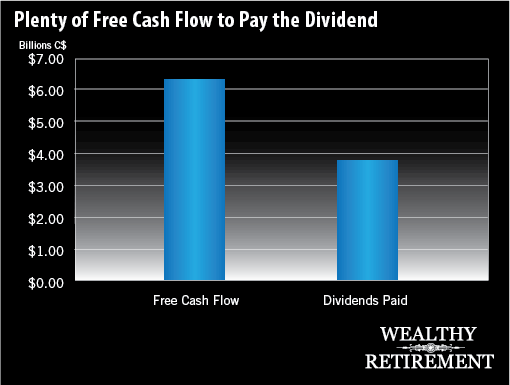 Assuming that cash flow rises along with earnings, Royal Bank of Canada will likely keep raising the dividend.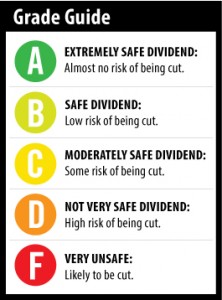 Royal Bank of Canada is the most profitable bank in Canada and one of the safest.
It has a rock-solid balance sheet, so unless something completely unforeseen occurs, I don't think shareholders have anything to worry about regarding its dividend.
That being said, the dividend cut in 2009 prohibits me from giving it a perfect score.
But it's pretty close.
Dividend Safety Rating: B

— Marc Lichtenfeld
[ad#DTA-10%]
Source: Wealthy Retirement