Silver looks too good to ignore.
The last time we looked at silver in late October, the price had just rallied above its 50-day moving average (DMA).
It seemed like it was the start of a new bullish move for the metal.
[ad#Google Adsense 336×280-IA]But that bullish development reversed quickly.
Silver dropped back down and retested its low near $19 an ounce.
But today, the bullish setup on the chart looks even more attractive than it did in October.
And the last time we had a setup like this, the metal popped 19% higher in just a few weeks.
Take a look at this chart of silver…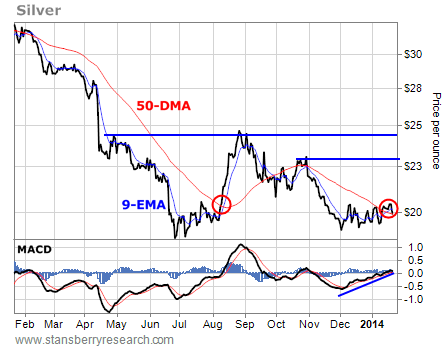 Silver has been in a low-level consolidation pattern for the past seven weeks – bouncing back and forth between $19 and $20.50 an ounce. During that time, the 50-DMA fell, and the nine-day exponential moving average (EMA) curled up. On Tuesday, the nine-day EMA crossed over the 50-DMA. This is a bullish setup and should lead to higher prices on the chart.
The last time we had a bullish cross on the silver chart was in August. Back then, silver popped 19% higher in just a few weeks.
Notice also the strong positive divergence on the MACD momentum indicator. That supports the idea of a silver rally starting soon.
At a minimum, silver should be able to rally up to its October high of $23 an ounce. But if this rally plays out the way the August rally did, $25 an ounce is a reasonable upside target.
With silver trading near its 52-week low, traders can buy the metal here and keep a tight stop at about $19. So the risk is just $0.84 per ounce from yesterday's closing price. The upside reward could be as much as $5 per ounce.
Best regards and good trading,
Jeff Clark
[ad#stansberry-ps]
Source: The Growth Stock Wire