Bond investors are buying risk.
Treasury-bond prices are closing out 2013 near their low of the year. But the junk-bond market is going in the opposite direction.
The iShares iBoxx High Yield Corporate Bond Fund (HYG) closed last Friday near its highest price of the year.
Take a look…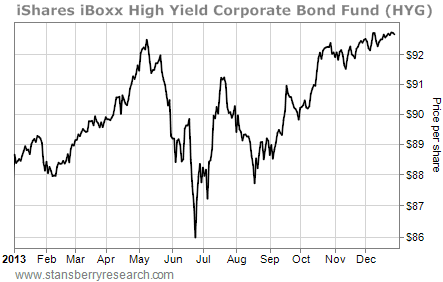 HYG invests mostly in corporate bonds rated BB and lower. That's the so-called "junk" bond category. These bonds carry a higher risk of default. So they tend to pay a higher interest rate to compensate investors for that risk.
[ad#Google Adsense 336×280-IA]Since June, while longer-term Treasury bonds have lost about 10% of their value, junk bonds have gained about 5%.
In other words, investors are selling the safe stuff, and they're taking on risk.
We're at the point now where the premium of long-term Treasury bonds over junk bonds is as low as it was back when the stock market peaked in 2007, and just before a major correction in 2011.
Here's a chart showing the price relationship between the iShares Barclays 20+ Year Treasury Bond Fund (TLT) and HYG…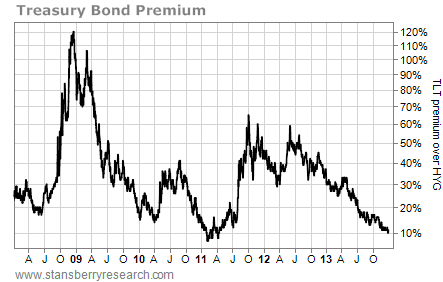 On average, TLT trades at about a 40% premium to HYG. In times of excessive risk aversion – when investors are looking for the safest investments possible, like during the financial panic of late 2008, TLT will trade at a much higher premium.
When investors are comfortable, though, it's a different story. The Treasury-bond premium to HYG nearly evaporates.
Right now, TLT trades at a mere 10% premium to its junk bond counterpart. When you combine that with the historically low level of the Volatility Index and the record-breaking level of margin debt, it's clear investors have developed a renewed appetite for risk.
But as we saw in 2007 and in 2011, that's not a good thing.
Best regards and good trading,
Jeff Clark
[ad#stansberry-ps]
Source: The Growth Stock Wire