There is no recession in Hong Kong.
Last month, I saw it firsthand. Steve Sjuggerud and I were in Hong Kong getting a boots-on-the-ground perspective in the best investment opportunities in Asia.
We saw a booming economy. And while that in itself isn't surprising, most investors don't realize there is an easy way to turn it into big gains.
[ad#Google Adsense 336×280-IA]You see, while Hong Kong's economy booms, its stock market shows little gains.
And thanks to a quirk in Hong Kong's currency, the question isn't if its stock market will soar… it's when.
Let me explain…
From my on-the-street view, Hong Kong's economy is doing great.
Take Hong Kong's Causeway Bay, for example…
This area is full of high-end shopping. Burberry, Louis Vuitton, Hermes, you name it. They're all here. And they're full of shoppers. Even on a Monday morning, the place was full.
These retail spaces are some of the most valuable in the world… around $2,000-$3,000 a square foot. Property developers are busy opening new spaces. Occupancy is well over 90%. And new tenants often sign leases before the new projects finish.
Of course, the economic numbers agree with our on-the-ground perspective…
Hong Kong's unemployment rate is 3.3%, as I write. And the business leaders we met with told us over and over about the shortage of workers in Hong Kong.
But despite a strong economy, Hong Kong stocks are mostly flat this year. Take a look: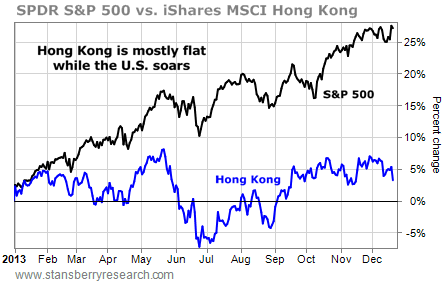 Here's the thing… even though Hong Kong hasn't soared yet, it's nearly guaranteed that it will in the future for one simple reason.
Hong Kong's economy is being flooded with cheap cash.
You see, in 1983, Hong Kong pegged its currency to the U.S. dollar. This was a great move. It allowed global investors to move money into Hong Kong without having to worry about currency risk. But there is a catch…
Hong Kong operates its peg by using interest rates. In other words, Hong Kong is stuck with whatever interest rates we have here in the United States.
Right now, the U.S. is trying to "goose" its economy with low interest rates. But like I said, Hong Kong's economy is already booming. These low interest rates are going to act like rocket fuel.
The question isn't if bubbles will form, it's when.
The U.S. has dramatically cut interest rates four times since 1983. During the first three periods, Hong Kong stocks crushed the U.S. But that isn't happening today. Take a look…
Based on history, Hong Kong stocks should be outperforming U.S. stocks. But that hasn't happened since 2008. History says 40%-plus gains are likely from here. And with the value I see in Hong Kong, that wouldn't surprise me a bit.
Hong Kong stocks are dirt-cheap. Hong Kong's major index – the Hang Seng – trades for a forward price-to-earnings (P/E) ratio of just 10. That makes Hong Kong one of the best values in the developed world. And it means Hong Kong needs to rise 40%-plus just to reach the U.S.
I don't believe this can last much longer…
The Hong Kong economy is booming. And low interest rates from the U.S. will create another bubble in the stock market… the only question is when. Personally, I think the answer is "right now."
Hong Kong stocks are up big since June. The easiest way to invest in Hong Kong – the iShares MSCI Hong Kong Fund (EWH) – is up 16% in the last six months.
I believe this is the start of a bigger move. We could easily see 40%-plus gains from here.
That's a move you don't want to miss. Check out shares of EWH today.
Good investing,
Brett Eversole
[ad#stansberry-ps]
Source: The Growth Stock Wire