79%…
That's the average gain on ALL open trades we've held for six months or more in my True Wealth Systems service.
That's a huge number…
How did our True Wealth Systems computers deliver that kind of gain? And how can you pocket gains like these for yourself?
[ad#Google Adsense 336×280-IA]I will answer both of those questions for you today.
Let's get started…
My basic goal in my True Wealth Systems service has been to:
1) Catch the really big moves, and
2) Stay in them!
The biggest profits are made when a market (or a sector of the market) catches a head of steam…
Sometimes, those booms peter out.
But every once in a while, they keep going, and going, and going…
If you can be onboard for one of those booms… and (importantly) STAY onboard… you can make A LOT of money.
In the last two years, we've seen big booms in U.S. stocks in general… and in health care and biotech in particular, for example. Thankfully for our readers, our True Wealth Systems computers caught all those trends early.
We're currently sitting on 139% gains in biotech stocks, for example. But our current gain is actually an extension of an earlier trade…
You see, in January 2012, my True Wealth Systems computers first signaled the opportunity in biotech stocks. We bought into the trend with shares of the ProShares Ultra Nasdaq Biotech Fund (BIB). The trade worked out just right. We closed it out for a 56% gain in 10 months.
Then, our TWS computers gave us a sell signal – they thought the trade might be over. So we got out. We know that all booms peter out eventually… So we get out quickly. But a month later, our computers crunched the data and gave us a new buy signal.
Here's what I wrote about biotech when that happened:
This has all the hallmarks of a major run in biotech stocks like the one we saw starting in the late 1980s, and we don't want to miss it because of one "red" month in True Wealth Systems.
In short, the story in biotech hadn't changed. And the buy signal had returned. So we were happy to get back in the trade.
If you had invested $10,000 into these two back-to-back TWS biotech trades, your initial investment would be worth nearly $40,000 today. The fund has moved from $35 per share to $140 per share… and we have captured most of that gain.
You can see the performance of our biotech trades in the chart below: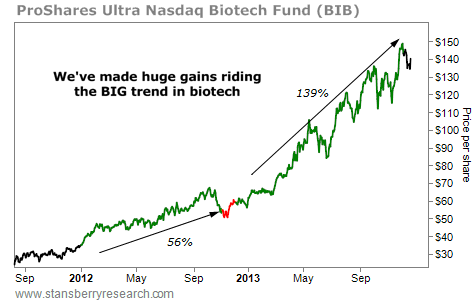 I tell you this story because it's the secret to making BIG money in the stock market.
You have to get in and stay in. Our True Wealth Systems computers have been in biotech for this whole run – except one month. We didn't bail because prices went up. Instead, we stayed on to capture nearly all of the gain.
You can't make triple-digit gains like this by selling once you're up 20%. That is simple math. In short, to make big gains, you must hold onto your winners – you must keep riding them.
That is the simple strategy we're using in True Wealth Systems. We want to buy what could turn into a big boom, and we want to stay in that trade as long as possible. When trades go against us, we get out quickly and early. But we stay in our winners.
This strategy is working…
As I mentioned, the average gain on our open positions that we've held six months or more is 79%. (And all those positions have been bought within the last two years.)
If you want a portfolio where your average winner (that you've held for six months or more) is up 79%, you must do what I'm describing: Let your winners ride as long as possible, and cut your losers short. You can't do what most people do, which is sell when they're up 20% and let their losers continue pile up in their portfolios.
If you do what I'm describing, over the long run, you'll end up where we are… or somewhere close.
It is how you make big money in the markets…
It is hard to do… but if you want to maximize your profits, it is what you must do…
Good investing,
Steve
Sponsored Link: In the December issue of True Wealth Systems, our computers found another biotech-like trade. The last time we bought this sector, we pocketed 90%. Now the trend is back, and the TWS computers are signaling us to get back in. Triple-digit gains are possible here, just like we've seen in biotech. To learn more about True Wealth Systems – and get all the details on this trade – click here.
Source: DailyWealth