Did you miss out on the "Bernanke Asset Bubble" in the stock market?
Most people did…
If so, I have some good news for you… You have a second chance at making big gains – starting now – as a similar "Bernanke Asset Bubble" sets up somewhere else.
Let me explain…
As everyone knows, U.S. stock prices have soared since 2009, after bottoming out in the global financial crisis.
[ad#Google Adsense 336×280-IA]U.S. stock prices have doubled… but most people missed it.
Subscribers of my letters didn't miss it…
They have been riding my "Bernanke Asset Bubble" theme for years.
It's the idea that U.S. Federal Reserve Chairman Ben Bernanke would keep interest rates lower than anyone could imagine, for longer than anyone could imagine.
And the result of that would be a "bubble" – where stock prices and real estate prices would soar higher than anyone could imagine.
The idea has been exactly right.
And now, we're seeing it play out again outside of U.S. soil…
This week, Europe's version of Bernanke told the world he will now follow Bernanke's lead…
Mario Draghi – the head of the European Central Bank – said he is committed to keeping interest rates low "for an extended period of time." He said he will "remain accommodative for as long as necessary."
Boom. Done. That's all we need to know… The "Draghi Asset Bubble" – the sister to the Bernanke Asset Bubble – starts now.
The ingredients are the same: a sluggish economy, dirt-cheap stock prices, and most importantly, a central bank dead set on pumping up asset prices (like stocks and real estate).
It's free money… Take it!
This chart shows what has happened – U.S. stocks have soared in recent years, while European stocks are still at 2009 prices.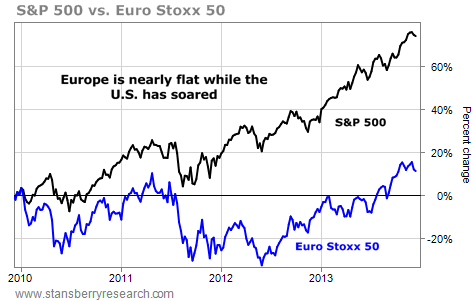 Meanwhile, Europe's biggest blue-chip companies are DIRT-CHEAP.
Consider, for example, the top 10 holdings of my favorite Euro-stock fund, which has the symbol FEZ:
These names are some of the planet's biggest and most important companies… You know most of these companies by their products, even if you don't recognize their names. (For example, Daimler is Mercedes.)
You can see just how cheap these companies are today… As a group, they're paying a 3.5% dividend yield, and they're trading at just 12 times next year's estimated earnings.
For comparison, U.S. stocks (as measured by the S&P 500 Index) are paying just a 2% dividend. This difference is massive…
Based on dividend yield, these 10 European stocks would have to soar 75% on average in order to be at the same value as the average U.S. stock.
The point is, Bernanke already kicked off the Bernanke Asset Bubble in the U.S… He promised rates would stay low for a very long time, and asset prices soared.
Now, Draghi is doing the same thing in Europe. Even better, stock prices are starting from dirt-cheap levels.
If you missed the Bernanke Asset Bubble the first time around, you're in luck… You get a second chance at it.
The sequel to the Bernanke Asset Bubble – the Draghi Asset Bubble – starts now… And FEZ is my favorite way to play it.
Good investing,
Steve
[ad#stansberry-ps]
Source: DailyWealth