One day doesn't make a trend. Heck, two days may not do it, either. But the action in mining stocks over the past week is bullish.
Mining stocks staged a major reversal last Friday [November 8]. The price of gold dropped $20 on the opening – gapping down below important support at $1,300 per ounce. Gold stocks cratered along with it. The Market Vectors Gold Miners Fund (GDX) opened down 3%, and it looked like it was going to be another miserable day for the mining sector.
[ad#Google Adsense 336×280-IA]But by midday, many mining stocks started to climb off their lows.
A few, such as Allied Nevada (ANV) and Silver Standard Resources (SSRI), turned positive on the day.
Meanwhile, gold closed near the low of the day, around $1,285 per ounce.
GDX ended the day with a gain of 0.6%.
That's not much.
But it marked an important reversal off the morning lows and an important divergence from the price of gold.
Remember… this is how gold stocks typically bottom. They gap sharply lower, reach an exhaustive low, and then rally back and close at the highs of the day. That they were able to do this while the price of gold was falling just adds strength to the argument that the sector is "sold out."
We saw this sort of action back in April just before a short-term 12% rally in the sector. We saw the same thing at the June lows – which led to a short-term rally of 20%.
This time, the action is even more constructive…
Not only did we get an important reversal day on Friday [November 8], but the same thing happened Monday [November 11], as well. Gold dropped $8 in overnight trading. GDX and the rest of the mining sector gapped sharply lower. But most stocks held above Friday's lows. Then they started to rally. Gold closed near its low at $1,281, but GDX and the majority of mining stocks were up on the day.
The sector took a hit again on Tuesday as the price of gold fell yet again. But mining stocks held above their Friday lows. And on Wednesday, the sector recovered a bit.
If Friday's bottom in the gold sector holds up, then despite the exhaustive selling pressure, the sector will have formed a higher low. That's important because it creates an uptrend on the chart. And it increases the chances that mining stocks are bottoming and are on the verge of a rally.
Take a look at this chart of GDX…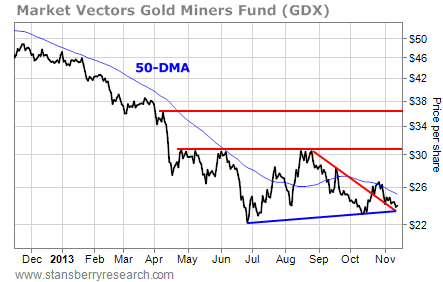 GDX broke above the down-trending resistance line in mid-October. But it failed to overcome the resistance of its 50-day moving average (DMA). GDX has now come back down and is testing the former resistance line as support. It has additional support at about $23 per share – where the blue line connects the June and October lows.
Resistance is at the 50-DMA near $25.30. If GDX can break above that level, there's no real resistance until it gets to the August high above $30.
If we see the sort of rally that happened after the April and June lows, $30 per share is a viable short-term target for GDX. But the sector is set up for an even more explosive move than that. Let me explain…
The mining sector has done a great job of shaking investors out of their positions. We've seen so many false bottoms, failed rally attempts, and sharp moves higher off extremely oversold conditions turn around and close lower that only the most hardened gold bug is still hanging out in the sector. There has been just too much heartache – too many emotional fits and starts.
Nobody wants to talk about gold stocks. They're sick of them.
But the ability of the sector to reverse large opening losses over the past few days, while gold itself was falling, tells me the sector is sold out. There just isn't anybody left to sell.
In this environment, a little bit of buying pressure can spark a massive rally. I suspect that's what we're setting up for.
Best regards and good trading,
Jeff Clark
[ad#stansberry-ps]
Source: The Growth Stock Wire