Last week, Donald W. asked me to take a look at AbbVie Inc. (NYSE: ABBV), the recent spinoff of Abbott Laboratories (NYSE: ABT).
On January 1 of this year, the two companies split. Parent Abbott will focus on diagnostics, generic pharmaceuticals and nutritional supplements, while AbbVie will concentrate on selling branded pharmaceuticals, including creating new ones.
Abbott Laboratories has paid a dividend for 30 years, raising the dividend often. The corporate culture of the parent company is one of dividend growth.
[ad#Google Adsense 336×280-IA]Can we expect the same from AbbVie?
Yes, we can.
A High Priority

AbbVie sells its products in 170 countries.
It owns leading drugs such as HUMIRA for autoimmune diseases such as arthritis, psoriasis and Crohn's Disease.
Other drugs in its portfolio include antibiotic Biaxin and cholesterol fighter Simcor.
HUMIRA is one of the best-selling drugs of all time. Last year, it generated $9.3 billion in sales. Its patent expires in 2016, at which time it will likely face generic competition.
But in the third quarter earnings conference call, CFO Bill Chase stated, "The dividend is a very, very important piece of our investor identity. We have set the dividend in a very competitive payout ratio relative to our peers. And we've been pretty clear that we intend to grow that dividend over time."
So the company appears committed to dividend growth.
AbbVie paid a dividend of $0.40 in each of the four quarters of 2013. The CFO added the dividend will likely grow modestly in 2014 and the payout ratio will creep up as generic competition hits the company's lipid franchise.
Considering it paid out only $1.2 billion in dividends in the first half of the year and it generated $3 billion in free cash flow, AbbVie has plenty of cushion to weather tough times, as well as continue to pay the dividend. And as business gets better, the dividend should also grow along with the bottom line and cash flow.
Over the next five years, earnings are expected to grow over 13% per year, while free cash flow is projected to grow over 6% annually through 2016.
Not Your Average Dividend

Typically, I'd penalize a company for having such a short track record.
But considering the business is growing, the payout ratio is extremely low and management has publicly stated it is committed to growing the dividend, there is practically no chance the payout gets cut any time soon.
This may be one of the only times I ever give my top rating to a company with a mere one-year history, but in the near and intermediate term, this dividend is as stable as it gets.
Dividend Safety Rating: A
If you have a stock whose dividend safety you'd like me to examine, leave the ticker symbol in the comments section below.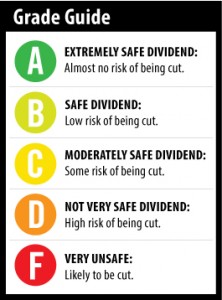 — Marc Lichtenfeld
[ad#IPM-article]
Source: Wealthy Retirement