My biggest investments in the last couple years – by far – have been in Florida real estate.
I invested for two reasons… 1) house prices are unbelievably cheap, and 2) mortgage rates are close to all-time record lows.
Yes, prices have crept up, increasing 15% nationally over the last year. And yes, mortgage rates have jumped from 3.5% to 4.3%. But U.S. houses are still incredibly affordable today.
[ad#Google Adsense 336×280-IA]Let me explain…
I'm personally STILL buying U.S. real estate.
I just bought a rental house in Florida a few weeks ago.
And I'm currently in negotiations on a bank-owned property there as well.
My point is, buying real estate is what I've been doing with my own money.
Low house prices and low mortgage rates might never come together again in my lifetime.
And I expect prices have plenty more upside from here…
The current price for the median U.S. house is below $200,000. But my fair value estimate (based on a mortgage rate of 4.5%, house prices, and the median income) is about $257,000 – a 34% gain from here. So there's still PLENTY of upside.
And houses will still be a great deal, even if interest rates go up.
If mortgage rates jump from 4.5% to 6%, fair value for U.S. houses would be around $219,000. As the chart shows, that's still a solid gain of around $27,000 from today's price.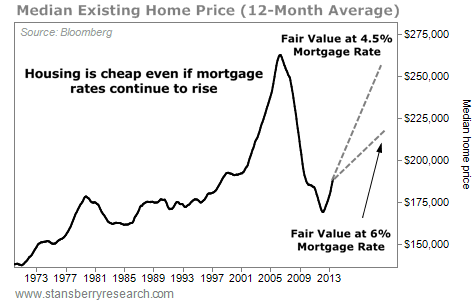 And I actually expect house prices will go higher than fair value.
In short, people have very few good alternatives for their money. You can't live on zero-percent interest.
So a lot of money will work its way into real estate, creating another real estate boom. Real estate tends to go in cycles, with prices rising above and below fair value. Prices fell way below fair value during the bust, and I expect they'll go way above it during the boom.
Of course, I can't guarantee that house prices will overshoot. But I can tell you with confidence that – even with some U.S. housing markets up 25% over the last year – house prices still have plenty of upside potential.
Real estate has a few more good years in front of it. If you find a deal on a high-quality property close to you, don't wait… Make an offer on it! It's what I'm doing with my own money.
Good investing,
Steve
[ad#stansberry-ps]
Source: DailyWealth