"I'm scared," the typical investor says today…
"Interest rates are DEFINITELY going higher," he says, "and stocks are ALREADY at all-time highs. The stock market is doomed!"
Now wait just a minute.
Don't let your emotions get ahead of the hard facts. Let's think this through rationally… because I strongly disagree.
[ad#Google Adsense 336×280-IA]Stocks could actually soar – NOT CRASH – even if rates go up.
Let me explain…
Please read this next part closely.
It's a simple history lesson.
And it gives us the best clues for what's coming next…
The last time interest rates were this low was 60 years ago – in the mid-1950s.
Back then, the Federal Reserve had manipulated long-term interest rates to keep them artificially low (just like today).
That ended in 1951. Then rates started to go up. They rose from 2.5% in 1955 to near 6% by the end of 1968.
The chart below shows interest rates during that period. Rates moved from the lower-left to the upper-right on the chart. The trend was up.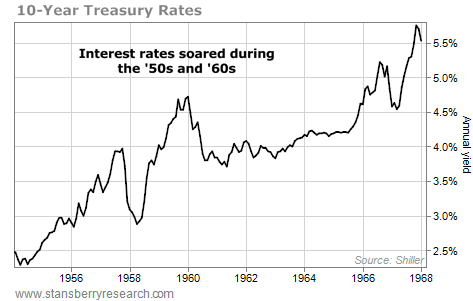 So what happened to stock prices as interest rates went up?
Well, stocks didn't crash. On the contrary, we had one of the greatest stock-market runs in all of history. The stock market soared nearly fourfold.
Take a look… The trend was clearly "lower-left to upper-right" again: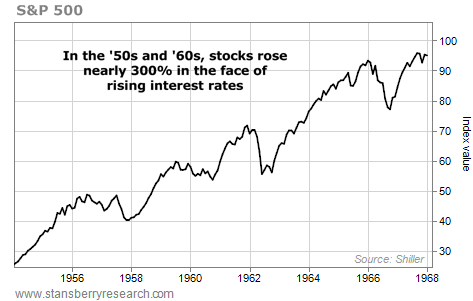 The bottom line: The last time U.S. interest rates went from 2.5% to 6%, the stock market soared fourfold.
But in order to soar that high, stocks must have been cheaper in the '50s than they are today, right? Nope…
Stocks were priced about the same as they are today. At the end of 1955, the stock market traded at a price-to-earnings (P/E) ratio of 13. According to Bloomberg's 2014 earnings estimates, the market trades at 13.7 times forward earnings today. Not much different. It's a myth that stocks need to be super-cheap for them to soar. During the entire 1950s/1960s run, the stock market's P/E ratio stayed in the high teens. And stocks still soared nearly fourfold.
Could stocks soar today, even though we are at new highs? Absolutely!
My friend, you can't let new highs worry you…
Consider this… Do you know when stocks finally hit new highs after the stock market crash in 1929?
It took 25 years… stocks finally hit new highs in late 1954. So if you'd bought stocks at their all-time highs back then, you'd have made a fortune. In hindsight, you'd look brilliant.
Yes, interest rates will go up from their ultra-low levels someday. And yes, stocks are near all-time highs. But so what?
History shows us that neither is a reason to sell.
I'm a buyer of stocks today. You should be, too.
Good investing,
Steve
[ad#stansberry-ps]
Source: DailyWealth