Last week, I looked at the dividend safety of SandRidge Mississippian Trust I (NYSE: SDT). The results weren't pretty. The stock got an F for dividend safety. Quarterly revenue is steadily declining, as is the dividend. It's only a matter of time before the dividend is cut again.
Several readers asked that I look at other similar companies, so this week I'm going over the numbers of Sabine Royalty Trust (NYSE: SBR), a small-cap oil and gas royalty trust based in Dallas. It owns interests in oil and gas wells in Florida, Louisiana, Texas, Oklahoma, Mississippi and New Mexico.
[ad#Google Adsense 336×280-IA]In the first six months of the year, Sabine's royalty income is down 3.2%.
Due to lower expenses, distributable income is off 2.7%.
It currently pays a healthy dividend yield of 7.2%, but not the usually unsustainable 15% to 20% yields of other royalty trusts.
While the company's royalty income has fluctuated, it has been able to average $56.2 million per year.
In 2012, Sabine's royalty income was right in line with its average at $54.6 million. This year, it's on pace for over $60 million.
This is a little bit of an unusual situation because royalty trusts don't have the predictable cash flow that a larger dividend payer like Kimberly-Clark Corp. (NYSE: KMB) might have. Plus, most royalty trusts pay dividends monthly, which can add to the volatility.
Consistently Inconsistent
Because its dividend is paid monthly and based on distributable net income that comes primarily from royalty interests in wells, a royalty trust's income is dependent on production and commodity prices.
If either of those two variables doesn't cooperate, income can go down and, as a result, so will the monthly dividend.
Sabine has paid a dividend for 25 years, but the dividend can vary wildly. In June it paid shareholders $0.24. It went up to $0.31 the next month and $0.45 in August, nearly double June's total.
Over the past five years, the average monthly dividend has been $0.31 per share. This year, the company is averaging slightly more than that. So it has been somewhat consistent. I don't see anything in the company's fundamentals that would suggest that the dividend is about to be irreparably damaged either.
But as I discussed, in any given month, that can change drastically depending on the price of oil and gas and how much is pulled from the wells. That being said, because of the volatility of the dividend, I can't give it a high rating as it is just as likely to fall as it is to rise.
That doesn't mean Sabine Royalty Trust is necessarily a bad investment – as long as the shareholder has reason to expect that the wells in which Sabine is invested will continue to produce, and the shareholder isn't relying on a set amount of income each month or even year.
But as far as the dividend is concerned, you simply can't depend on a specific dollar amount month to month or even year to year.
Dividend Safety Rating: D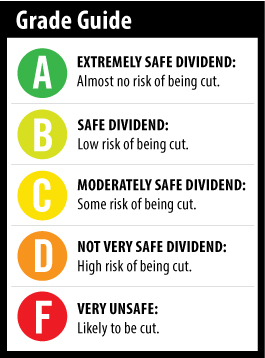 — Marc Lichtenfeld
[ad#wyatt-generic]
Source: Wealthy Retirement