Emerging markets are pushing higher… and this could be the start of a 50%-plus move.
While U.S. stocks soared over the last few years, emerging-market stocks were on a one-way course downward.
Since early 2012, the largest emerging markets (Brazil, Russia, India, and China) all saw their stock markets decline. Brazil, for example, fell nearly 30%… while U.S. stocks soared over 30%.
[ad#Google Adsense 336×280-IA]But I think a new uptrend just got started.
And we have a safe opportunity to make big gains over the next 12 months…
For the better part of four years, Brazilian stocks have been "dead money."
The iShares MSCI Brazil Fund (EWZ) holds a basket of Brazil's largest stocks, including oil giant Petrobras and mining giant Vale.
If you bought EWZ in 2009, you'd be sitting on a 16% loss today.
(If you'd bought the U.S.-based S&P 500, you'd be up 77%.)
Earlier this year, Brazil's bear market reached its "puke point." EWZ lost 25% in a six-week stretch from late May to early June. That kind of irrational blow-out often happens at market bottoms… Everyone rushes out. The price doesn't matter.
And when there's no one left to sell, that's when prices can rise.
After the crash, EWZ moved sideways for a couple months… But starting in late August, the fund has moved up 20%. There's a lot more potential upside here.
The Ibovespa Index (the Brazilian S&P 500) trades for around book value today. That's half what it was trading for in 2010. And it's 35% below its 10-year average.
The chart below shows just how cheap Brazilian stocks have gotten… and the uptrend that's currently taking place. Take a look: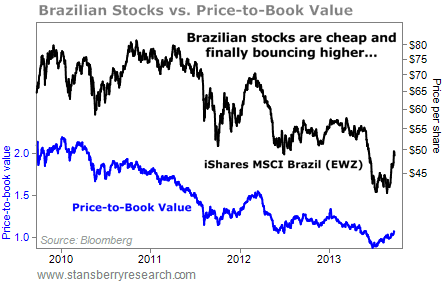 Brazilian stocks are cheap. And now, for the first time in years, they are in an uptrend.
The last time Brazil was this cheap, in 2003, EWZ returned over 100% in a year. And I believe we're in the early innings of a similar move today. I wouldn't be surprised to see EWZ increase 50%-plus over the next 12 months.
This reversal is a great sign for Brazilian investors. And since Brazil tends to move in step with other emerging markets, it's a great sign for emerging markets in general.
The last four years were brutal. But if this is the turnaround, the upside potential is phenomenal. You don't want to miss it.
Good investing,
Brett Eversole
Sponsored Link: My colleague Steve Sjuggerud and I have been doing a lot of work on emerging markets this year… And we found one idea that could return as much as $14 for every $1 you put in. Plus, it pays a 4%-plus yield. You'll find more details right here.
Source: The Growth Stock Wire