Gold is more hated right now than it's been in years… and I love it.
We have the perfect setup for a great trade in gold.
Your upside is 70%-plus in the next year. Your downside risk is just 9%. A risk-versus-reward setup just doesn't get much better than that!
Let me explain…
[ad#Google Adsense 336×280-IA]The last time gold was even close to this hated was back in 2008…
And it soared 71% in the following 13 months.
This time around, it could go even higher.
You see, gold is even MORE hated than it was in 2008…
The clearest measure of how hated gold has gotten is what real traders are doing with real money.
And the real money has bailed on gold…
A couple of months ago, the Commitment of Traders report showed that "large speculators" – hedge funds – were more bearish on gold than they have been in years.
Take a look at the chart below. You can see how these large speculators bailed out: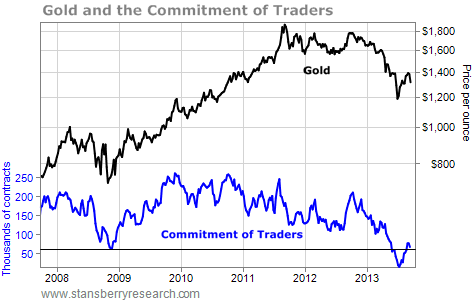 Large speculators became extremely bearish on gold a few months ago… but in late June, the position started to reverse, around the same time gold bottomed.
Gold bottomed at less than $1,200 per ounce. Today, gold is up… but not dramatically – at around $1,300 per ounce. This could be the start of a new uptrend.
So gold is HATED. And it has a bit of an UPTREND in place. These are two of the three things I look for in an investment. (The third thing I look for in an investment is "cheap." But it's almost impossible to put a fair value on the price of gold.)
This is about as good as it gets for placing a trade in gold.
We have incredible upside potential here… Remember, gold soared 71% in 13 months the last time we saw a similar setup. And gold is even more hated today than it was back then.
Here's what you should consider doing…
I suggest putting on a 12-month trade in gold, right now. Buy today, and sell next September. You could pocket 70% or more. To protect your downside risk, set a stop loss at gold's June low.
The easy way to make this trade is through SPDR Gold Shares (GLD), the big gold fund. GLD's June low was around $116. So if shares of GLD close below $116 any time in the next 12 months, sell the next day for about a 9% loss. On the flip side, a 70% gain in gold would put shares of GLD well above $200.
Those are great trading odds.
We have an excellent setup for a low-risk, high-potential-upside trade in gold right now. Don't miss it.
Good investing,
Steve
[ad#stansberry-ps]
Source: DailyWealth