Royalty trusts are one of the greatest commodity businesses on the planet…
They do nothing but collect income. And they pass nearly all that cash on to shareholders. You can often find them yielding a safe 10%-plus.
If you buy them at the right time, they're among the lowest-risk investments in the resource sector.
[ad#Google Adsense 336×280-IA]The right time to buy royalty trusts is at the end of bear markets.
For natural gas royalty trusts, that's exactly where we were last November.
From mid-2010 to early 2012, natural gas prices fell 63%.
Investors were panicking about a glut of natural gas production from shale fields.
And the share prices of natural gas royalty trusts, which earn income from selling natural gas, had gotten crushed.
San Juan Basin Trust (SJT) is a good example… By June 2012, its share price was down 54% from its 2010 peak. San Juan's peers, Mesa Trust (MTR) and Sabine Royalty Trust (SBR), also collapsed. They fell 50% and 33%, respectively, over that same period.
April 2012 marked the low for natural gas. By November, prices had more than doubled from $1.82 per thousand cubic feet to $3.77. Higher natural gas prices pointed to higher payouts from natural gas royalty trusts… But their share prices hadn't rebounded.
The Permian Basin Royalty Trust (PBT), for example, had fallen another 40%.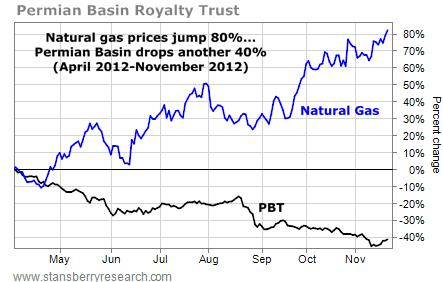 It was time to buy.
As I explained in my November essay, when you're investing in commodities, you want to be paid for taking on risk… So I like to own these trusts when they're paying out double-digit income streams.
Using some "back of the envelope" calculations, I showed you the right prices to pay to earn about 10% on San Juan, Mesa, Sabine, and Permian Basin.
Both Permian Basin and Mesa shares fell to the target price. If you followed my advice, you're up 8% on Permian Basin and 20% on Mesa in nine months. Using the latest payments as a guide, you're earning 8% and 13%, respectively, on your buy price. If you're in, stay long.
If you didn't get in earlier, be cautious. With more new supply coming online, I don't expect natural gas prices to rise much over the next few years. If I'm right, these trusts will pay out between 3% and 8% on today's share price.
Remember, the key with these high-income resource trades is to buy at the right time… buy after a bear market… and collect big, double-digit yields.
Good investing,
Matt Badiali
Sponsored Link: I just told readers of the S&A Resource Report my three favorite royalty trusts to buy today. They're currently paying out 15%-plus… and I expect the yield to stay in the double digits regardless of what the oil and natural gas prices do. Learn more about my royalty trust recommendations right here.
Source: The Growth Stock Wire